»

Recipes

»

Indian

»

Pulao

»

Turkey Pulao
Turkey Pulao Recipe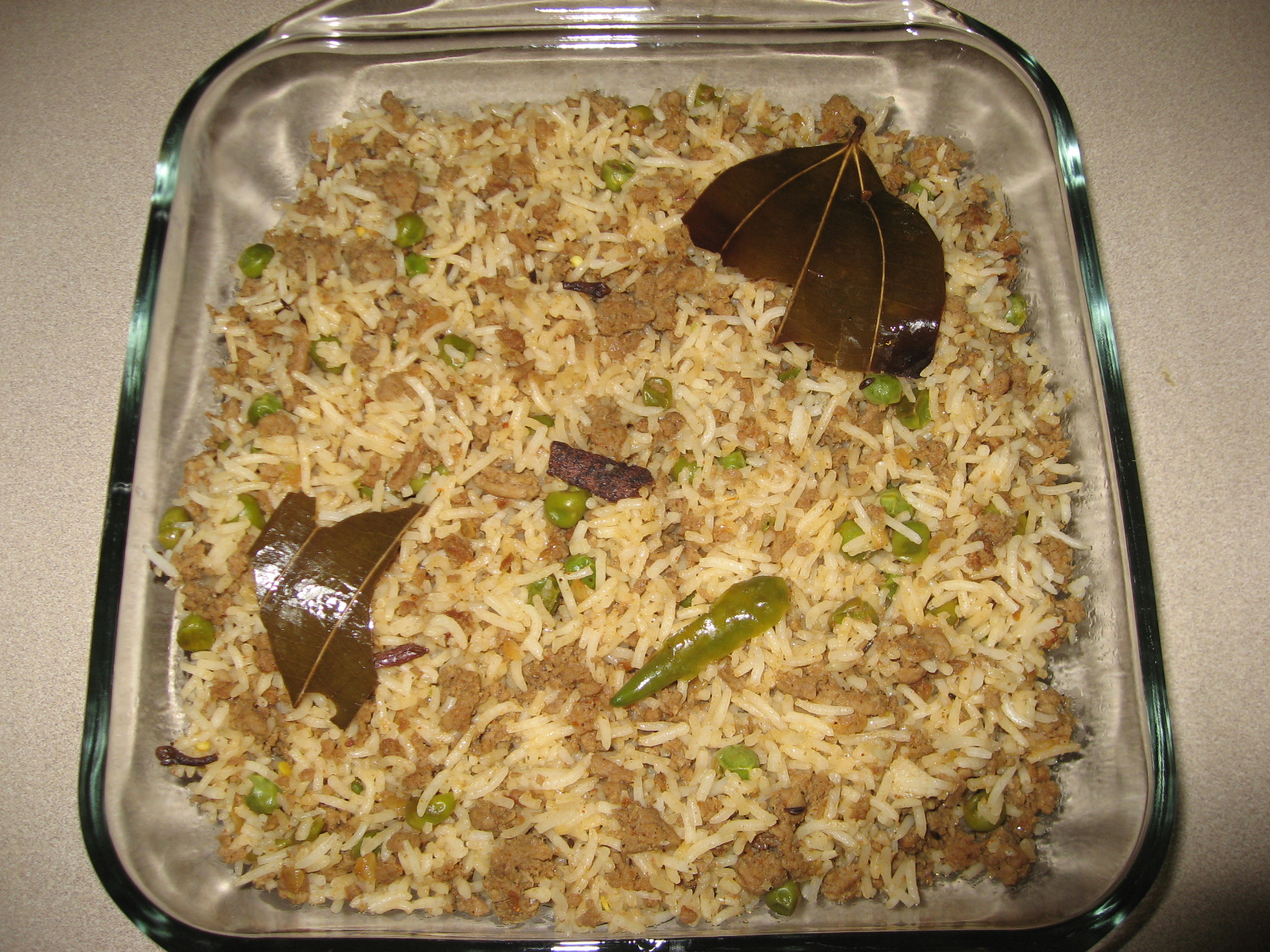 Ingredients
Long grain rice

2 1⁄2 Cup (40 tbs)

(basmati rice)

Basmati rice

2 1⁄2 Cup (40 tbs)

Ground turkey meat

1 Pound

, minced

Minced turkey meat/Ground turkey meat

1 Pound

(o.5 kilogram)

Onions

1⁄2 Cup (8 tbs)

, chopped

Green peas

1⁄2 Cup (8 tbs)

Green chillies

4

, slit lengthwise

Green chillies

4

Paste

1 Teaspoon

Ginger garlic paste

1 Teaspoon

Coriander powder/Dhaniya

1⁄2 Teaspoon

Garam masala powder

1 Teaspoon

Turmeric powder

3 Pinch

Black pepper powder

1⁄2 Teaspoon

Lemon juice

1 Large

Lemon

1 Large

, juiced

Chilly

To Taste

Salt

To Taste

Bay leaves

4

Chili powder

To Taste

Cloves

6

Cinnamon sticks

4 Medium

Green cardamoms

3

, crushed

Clarified butter

1 Teaspoon

(Ghee)
Nutrition Facts
Serving size
Calories 1252 Calories from Fat 199
% Daily Value*
Total Fat 22 g34.2%
Saturated Fat 6.4 g31.8%
Trans Fat 0.6 g
Cholesterol 182.5 mg
Sodium 422 mg17.6%
Total Carbohydrates 200 g66.5%
Dietary Fiber 6.4 g25.8%
Sugars 3.9 g
Protein 58 g116.5%
Vitamin A 11.7% Vitamin C 137.7%
Calcium 15.5% Iron 37.1%
*Based on a 2000 Calorie diet
Directions
Wash Basmati Rice and keep aside. Heat 1 tsp ghee is a small skillet. Add bay leaves, cloves, cinnamon sticks, green cardamoms and saute for a few seconds and add this to the Rice. Add 4 cups water and allow it to soak for 30 minutes.

Cook Rice either on stove or rice cooker.

While the Rice is cooking, heat 3 tbs oil in a deep dish. Add onions and slit green chillies and saute until onions are well-fried/turn brownish. Add minced turkey meat and mix well.

Add ginger-garlic paste, dhaniya powder, garam masala powder, turmeric powder, salt and chilly powder. Mix well.

Add Green Peas. Cover with lid and cook for 5-7 minutes/until the meat has cooked thoroughly/browned well.

Remove lid and continue cooking until the water begins to evaporate. Add black pepper powder and squeeze the juice of 1 large lemon. Add Cooked Rice and Mix until the meat blends completely with the Rice.

Serve Hot with Raita/Plain Yogurt.
Thank you Snigdha.. shall try & let u know... :)
Posted on:
27 September 2008 - 2:19am

Hi Sunita. I am glad you wish to try cooking turkey. Initially I was apprehensive about it but once I started cooking it, I have realized its subtle flavor and added my own twists suitable to the Indian palate. I use Minced Turkey (Jennie.O Brand - either low fat or 7% fat) easily available in the Meat Section of most Convenience Stores like Target, Krogers, Albertsons, King Soopers. I would not suggest using smoked turkey or even turkey slices which are most suitable/appropriate for sandwiches. Hope you enjoy the Turkey Pulao.
Posted on:
22 September 2008 - 11:43am
Hi... i have not cooked turkey at home so far... but seeing ur "Yummy recipes" sounds interesting & wish to try out ..... Can u suggest me which one to buy from the stores to try out ur recipes and as well as for indian style of cooking 'coz i found different types of turkey like smoked, hams, sausages & so on.....
Posted on:
20 September 2008 - 4:01pm