»

Recipes
Turkey Divan Recipe
The turkey divan is a oven cooked turkey recipe made with broccoli and cooked turkey. Flavored with sherry, white sauce and cheese, the turkey divan is cooked with cream and seasoned with salt and pepper.
Turkey Divan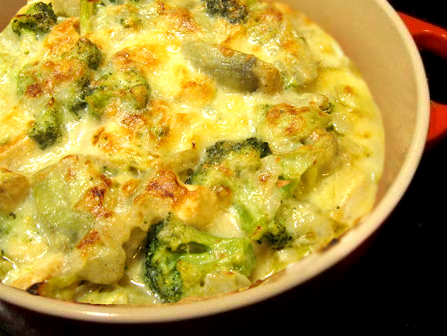 Ingredients
Cooked turkey

12 Ounce

, diced

Broccoli

8 9 Ounce

, frozen

Parmesan

3 Tablespoon

, grated

1 packet savoury white sauce mix

10 fl. oz. milk

Dry sherry

2 3 Tablespoon

Egg yolks

2

Double cream

3 Tablespoon

Ground black pepper

1 To taste

Salt

To Taste
Directions
Heat the oven to 350°F (Gas Mark 4, 180°C).
Cook the broccoli according to the instructions on the packet.
Drain thoroughly and arrange in the base of a casserole.
Sprinkle with 1 tablespoon of grated Parmesan.
Make up the sauce according to the instructions on the packet, using the milk.
Remove from the heat.
Mix the sherry, egg yolks and cream in a small bowl, then stir them into the white sauce.
Add 1 tablespoon of Parmesan.
Taste and season the sauce with salt and pepper.
Spoon half the sauce over the broccoli.
Arrange the turkey on top and cover with the remaining sauce.
Sprinkle the last tablespoon of grated Parmesan on top.
Bake for 30 minutes or until the dish is hot right through and the sauce is bubbling and golden.