»

Recipes

»

Meatball

»

Turkey Meatballs
Turkey Meatballs Recipe
Turkey Meatballs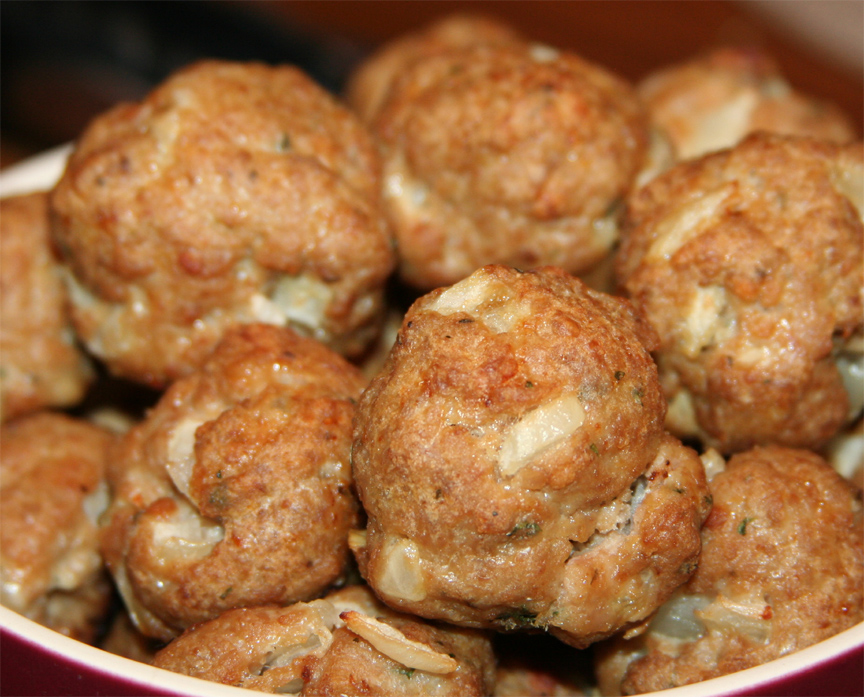 Ingredients
For seasoning mix

Salt

1 Teaspoon

Onion powder

1 Teaspoon

Garlic powder

1 Teaspoon

Dry mustard

1 Teaspoon

Sweet paprika

1⁄2 Teaspoon

Black pepper

1⁄2 Teaspoon

Ground cinnamon

1⁄2 Teaspoon

Ground nutmeg

1⁄2 Teaspoon

White pepper

1⁄4 Teaspoon

Cayenne

1⁄4 Teaspoon

Star anise powder

1⁄8 Teaspoon

Ground cloves

1⁄8 Teaspoon

Olive oil

1 Tablespoon

Finely diced onion

1⁄2 Cup (8 tbs)

Grated fresh ginger

1 Tablespoon

Turkey breast

1 Pound

, freshly ground

Tamari

1 1⁄2 Tablespoon

Defatted chicken stock

1⁄4 Cup (4 tbs)

Toasted bread crumbs

3⁄4 Cup (12 tbs)

, unseasoned

Evaporated skim milk

1⁄4 Cup (4 tbs)

Vegetable oil cooking spray

1
Nutrition Facts
Serving size: Complete recipe
Calories 1506 Calories from Fat 455
% Daily Value*
Total Fat 51 g78.9%
Saturated Fat 11.8 g58.9%
Trans Fat 0 g
Cholesterol 308.5 mg
Sodium 3832.1 mg159.7%
Total Carbohydrates 124 g41.5%
Dietary Fiber 6.2 g24.8%
Sugars 15.1 g
Protein 113 g226.6%
Vitamin A 16% Vitamin C 8.1%
Calcium 41% Iron 50.3%
*Based on a 2000 Calorie diet
Directions
Day 1: Combine the seasoning mix ingredients in a small bowl.
Pour the oil into a nonstick 10-inch skillet and heat to 400° over high heat, about 4 minutes.
Add the onions and ginger, sprinkle with 1 tablespoon of the seasoning mix, and stir.
Saute until the onions become translucent and tender; let cool.
Combine the onions and ginger with the remaining ingredients, including the remaining seasoning mix, in a large bowl and mix thoroughly.
Refrigerate overnight.
Day 2: Preheat a nonstick 10-inch skillet over high heat to 400°, about 4 minutes.
Preheat the oven to 350°.
With a teaspoon form the turkey mixture into small balls.
Brown the Meat balls, a few at a time, in the skillet, then reshape any that fall apart.
Coat a baking pan large enough to hold all the meatballs with vegetable oil spray, and place the meatballs in it.
Bake until done, about 30 minutes.