»

Recipes
Turkey Jambalaya Recipe
Turkey Jambalaya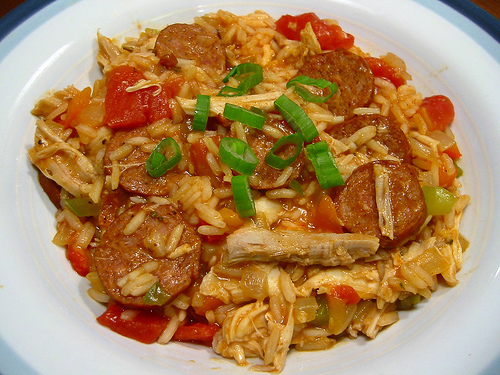 Ingredients
Turkey

14 Pound

, seasoned

Canned mushrooms

4 Ounce

(1 Can)

Parsley

1⁄2 Cup (8 tbs)

, finely chopped

Butter stick

1

Onion

1 Large

, chopped

Lean ground veal

2 Pound

Poultry seasoning

1 Teaspoon

Worcestershire sauce

4 Tablespoon

(Lea & Perrins)

Pecans

1 1⁄2 Cup (24 tbs)

Salt

To Taste

Pepper

To Taste

Cooked rice

4 Cup (64 tbs)
Nutrition Facts
Serving size
Calories 799 Calories from Fat 378
% Daily Value*
Total Fat 43 g65.6%
Saturated Fat 11.2 g56.1%
Trans Fat 0 g
Cholesterol 300.9 mg
Sodium 339.4 mg14.1%
Total Carbohydrates 15 g5.1%
Dietary Fiber 1.5 g6.2%
Sugars 1.5 g
Protein 84 g168.3%
Vitamin A 8.1% Vitamin C 6.8%
Calcium 8.4% Iron 34.5%
*Based on a 2000 Calorie diet
Directions
GETTING READY
1) In an oven, bake the seasoned turkey.
2) While turkey is cooking, gradually add mushrooms and parsley to it.
3) Once cooked, remove the bones and dice. Reserve the broth.

MAKING
4) In a deep pan, heat butter.
5) When hot, saute onion and veal.
6) To this, add poultry seasonings and Worcestershire sauce.
7) Gradually add half cup broth.
8) Add salt and pepper to taste.
9) To the veal mixture, add the cooked rice, diced turkey and nuts and mix well.
10) In a 200 degree oven, heat slowly, covered.

SERVING
11) Serve hot, with gravy.