»

Recipes

»

Pita

»

Tuna-Pickle Pitas
Tuna-Pickle Pitas Recipe
The Tuna Pickle Pitas are an easy to make yummy delight when you are really running short of time. The sweet pickle relish gives this coleslaw like sandwich filling a really tangy kick. A real treat for any seafood lover.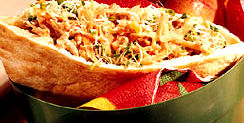 Ingredients
Light tuna

6 Ounce

(In Water , Drained)

Carrot

1 Large

, shredded (1 Cup)

Sweet pickle relish

2 Tablespoon

Coleslaw dressing

1 Tablespoon

Celery seed

1⁄4 Teaspoon

Pita breads

4

, cut in half to form pockets (6 Inches In Diameter)
Nutrition Facts
Serving size
Calories 250 Calories from Fat 29
% Daily Value*
Total Fat 3 g5%
Saturated Fat 0.38 g1.9%
Trans Fat 0 g
Cholesterol 25.8 mg
Sodium 631.8 mg26.3%
Total Carbohydrates 39 g12.9%
Dietary Fiber 1.9 g7.8%
Sugars 3.7 g
Protein 15 g30.9%
Vitamin A 62% Vitamin C 2%
Calcium 6.3% Iron 6.1%
*Based on a 2000 Calorie diet
Directions
1. Mix all ingredients except pita breads.
2. Spoon tuna mixture into pita bread halves.