»

Recipes

»

Filling

»

Tuna Apple Filling
Tuna Apple Filling Recipe
Tuna Apple Filling is delicious all by itself. Whne added as a sandwich filling the Tuna Apple Filling is even more spectacular. Try it!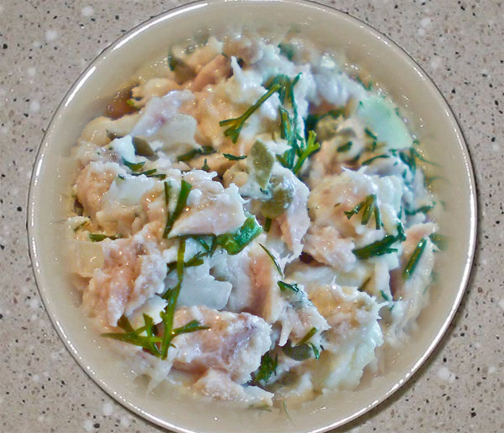 Ingredients
Mayonnaise

1/4 Cup (16 tbs)

Parsley

2 Tablespoon

, finely chopped

Lemon juice

1 Tablespoon

Salt

1/2 Teaspoon

Package cream cheese

1 3 Ounce

, softened

Tuna

1 Can (10oz)

, drained

1 large red or green apple, finely chopped
Directions
1. In medium-sized bowl, mix mayonnaise, parsley, lemon juice, salt, and softened cream cheese until smooth.
2. Stir in tuna and finely chopped apple until well mixed. Cover and refrigerate mixture.