»

Recipes

»

Chips

»

Tuna And Potato Chip Casserole
Tuna and Potato Chip Casserole Recipe
Tuna and Potato Chip Casserole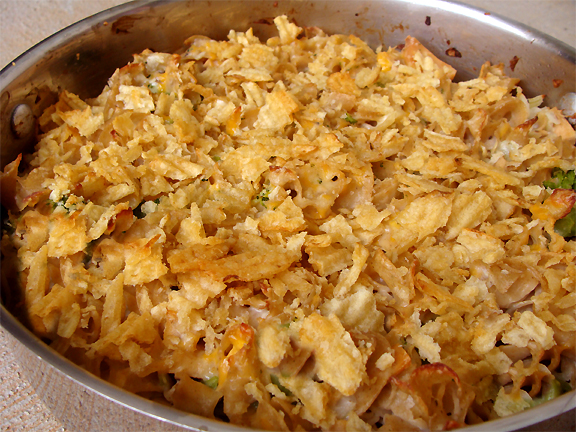 Ingredients
Flaked tuna

1 Cup (16 tbs)

(Or Canned / Cooked)

Grated onion

1 Teaspoon

Crushed potato chips

1 3⁄4 Cup (28 tbs)

Canned condensed mushroom soup

1 Cup (16 tbs)

Milk/Cream

1 Cup (16 tbs)
Nutrition Facts
Serving size: Complete recipe
Calories 1273 Calories from Fat 625
% Daily Value*
Total Fat 71 g109%
Saturated Fat 21.6 g107.8%
Trans Fat 0 g
Cholesterol 22.6 mg7.5%
Sodium 2403.5 mg100.1%
Total Carbohydrates 92 g30.7%
Dietary Fiber 5.6 g22.5%
Sugars 16.3 g
Protein 74 g147.4%
Vitamin A 6.1% Vitamin C 39.7%
Calcium 31.7% Iron 27.5%
*Based on a 2000 Calorie diet
Directions
1. Start oven, set at Moderate, 350° F. Rub a small casserole with margarine or butter.
2. Flake the tuna fish, mix with the onion. Arrange alternate layers of fish and potato chips in the casserole.
3. Heat and stir the mushroom soup with the milk for 5 minutes.
4. Pour sauce over the potato chips. Bake 20 minutes.