»

Recipes

»

Greek

»

Traditional Greek Easter Soup (Mayeritsa Avgolemono)
Traditional Greek Easter Soup (Mayeritsa Avgolemono) Recipe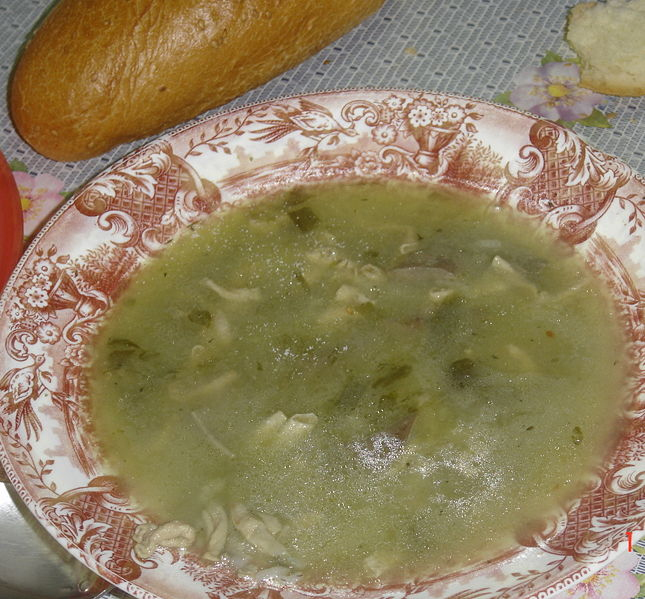 Ingredients
Green onions

50 Gram

, trimmed (1 Small Bunch)

Diced celery root

2 Cup (32 tbs)

Parsley sprigs

4

Dill sprig

1

Water

2 1⁄2 Quart

Salt

To Taste

Freshly ground pepper

To Taste

Lamb's intestines

1⁄2 Cup (8 tbs)

Lamb's liver

1⁄2 Pound

Lamb's heart

1⁄2 Pound

Cold water

1 Cup (16 tbs)

Finely chopped parsley

1⁄2 Cup (8 tbs)

Finely chopped dill

2 Tablespoon

Egg yolks

6

Lemon

1

, juiced
Nutrition Facts
Serving size: Complete recipe
Calories 1243 Calories from Fat 459
% Daily Value*
Total Fat 51 g78.7%
Saturated Fat 15.8 g79%
Trans Fat 0 g
Cholesterol 1731.1 mg
Sodium 1249.4 mg52.1%
Total Carbohydrates 71 g23.7%
Dietary Fiber 14.7 g58.8%
Sugars 9.4 g
Protein 131 g262.6%
Vitamin A 4044.2% Vitamin C 317.1%
Calcium 52% Iron 338.5%
*Based on a 2000 Calorie diet
Directions
Tie green onions, celery root, parsley, and dill in cheese cloth and place in a kettle.
Add the 2 1/2 quarts water, salt, and pepper; bring to a boil.
Meanwhile, clean lamb's intestines.
Rinse them well, then turn them inside out.
To do this, use a small stick about the size of a pencil.
Tie one end of one length of intestine.
Fit this onto the tip of the stick, then reverse the intestine down the stick much as you would a stocking, pushing the inside out with the fingers.
Rinse well and add the intestines to the kettle.
Bring to a boil and cook about 1 hour.
Place liver and heart in a saucepan and add cold water to cover.
Add salt and pepper and simmer until tender (20 minutes or longer).
Remove the intestines from the stock.
Discard the cheese cloth bag.
Chop the intestines.
Dice the heart and liver.
Add all this to the stock, then add parsley and dill.
Heat thoroughly.
Strain, reserving stock.
Heat small bowl of an electric mixer.
Add egg yolks to the bowl and beat well.
Add lemon juice, a little at a time, beating rapidly.
Beat in 2 cups strained hot stock, tablespoon by tablespoon, beating rapidly.
Beat in the remaining stock, strained, and serve immediately.
Image Courtesy :
http://commons.wikimedia.org/wiki/File:Mageiritsa_soup.jpg