»

Recipes

»

American

»

Traditional Baked Alaska
Traditional Baked Alaska Recipe
The traditional baked Alaska is a classic dessert recipe that has stood the test of time. Enjoy the delicious mix of ingredients that go on and make it as an absolutely wonderful treat. Enjoy!!
Traditional Baked Alaska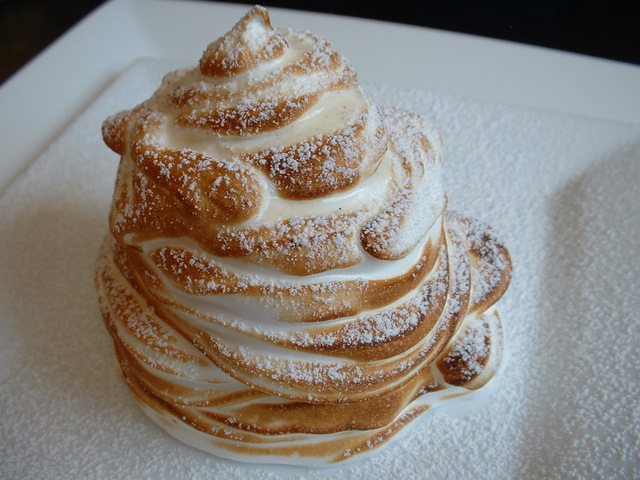 Ingredients
Patty shells

5

Ice cream

1⁄2 Cup (8 tbs)

(1 Scoop)

Egg whites

2

Sugar

4 Tablespoon

Vanilla

1⁄4 Teaspoon
Nutrition Facts
Serving size: Complete recipe
Calories 1367 Calories from Fat 625
% Daily Value*
Total Fat 69 g106.8%
Saturated Fat 23.3 g116.6%
Trans Fat 0 g
Cholesterol 36.6 mg
Sodium 782.9 mg32.6%
Total Carbohydrates 161 g53.7%
Dietary Fiber 0 g
Sugars 74 g
Protein 24 g47.3%
Vitamin A 6.6% Vitamin C 1%
Calcium 8.8% Iron 0.3%
*Based on a 2000 Calorie diet
Directions
GETTING READY
1. Preheat oven to 450 degrees
2. Line a cookie sheet with foil

MAKING
3. Place the patty shells on the sheet and fill with ice cream. Set aside to freeze for several hours.
4. Beat egg whites till frothy and beat in sugar gradually. This will turn the egg whites fluffy
5. Add vanilla and spread this meringue over the patty shells sealing the ice cream in. Bake for 5 minutes or until meringue is lightly browned

SERVING
6. Serve immediately.