»

Recipes

»

European

»

Traditional Easter Paska
Traditional Easter Paska Recipe
Traditional Easter Paska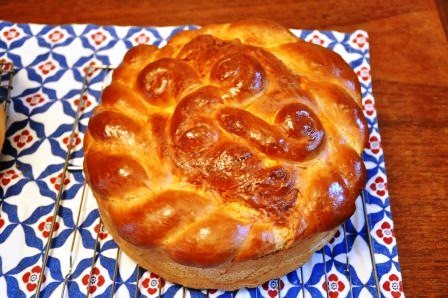 Ingredients
Lukewarm water

1 Cup (16 tbs)

Yeast

1⁄4 Ounce

(1 Package)

Scalded milk

3 Cup (48 tbs)

(Lukewarm)

Eggs

6

, beaten

Sugar

1⁄3 Cup (5.33 tbs)

Butter/Margarine

1⁄2 Cup (8 tbs)

, melted

Salt

1 Tablespoon

Flour

8 Cup (128 tbs)
Nutrition Facts
Serving size
Calories 1387 Calories from Fat 338
% Daily Value*
Total Fat 38 g58.9%
Saturated Fat 20.3 g101.6%
Trans Fat 0 g
Cholesterol 394.6 mg
Sodium 1637.2 mg68.2%
Total Carbohydrates 217 g72.4%
Dietary Fiber 6.9 g27.6%
Sugars 26.8 g
Protein 41 g82.2%
Vitamin A 24.8% Vitamin C 0%
Calcium 27.9% Iron 72.8%
*Based on a 2000 Calorie diet
Directions
GETTING READY
1) Preheat the oven to 400°F (205°C)

MAKING
2) Take the water and dissolve the sugar in it. Sprinkle yeast over the solution.
3) Let the solution stand for about 10 minutes.
4) Mix this softened yeast with the lukewarm milk and 5 cups of flour and beat this until it becomes smooth.
5) Cover the batter and then let it rise in a warm place until the dough becomes light and bubbly.
6) Now add the melted butter, beaten eggs, sugar, and salt and mix well
7) Stir in enough flour to make a dough (Neither too soft or too stiff)
8) Keep kneading the dough until it does not stick to the hand anymore
9) Now, turn the dough onto a floured board and knead until smooth.
10) With a clean towel or cloth, cover the dough with a clean towel and let rise in a warm place (80-85 °F, 26-30°C) until it almost doubles in size. This should take about 1 ½ hours.
11) push it down and turn it over and let it rise for about 10~12 more minutes
12) This should give 2 large loaves of paska. Divide the dough into 3 parts.
13) You may keep one part for ornamenting the loaves (if required)
14) The loaves should now be kept in a warm place until they are almost double in size.(If ornamenting, do not let loaves rise longer than necessary because the ornaments will lose their shape)
15) Dilute a beaten egg with 2 tablespoons water and brush it very carefully
16) Bake the dough in the oven at 400°F for about 15 minutes
17) Lower the heat to about 350°F and continue baking for about 40 minutes longer.

SERVING
18) Serve hot.