»

Recipes

»

Mexican

»

Tortilla Mexican Soup
Tortilla Mexican Soup Recipe
My friend's daughter Yenene likes this Tortilla Mexican Soup recipe. Though she is 15 years old, but she has mastered the cooking technique of this soup. Whenever there is a gathering of my family and my friends, she definitely cooks this soup. Our children also enjoy this soup. You should try this Tortilla Mexican Soup recipe.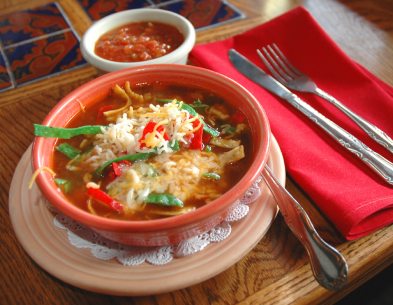 Ingredients
Carrots

2 Cup (32 tbs)

, diced

Celery

2 Cup (32 tbs)

, diced

Onion

1 Large

, diced

Garlic

2 Clove (10 gm)

, minced

Oil

2 Tablespoon

Tomato paste

2 Can (20 oz)

Water

6 Cup (96 tbs)

Chili powder

To Taste

Salt

To Taste

Ground pepper

To Taste

Pepper

To Taste

(fresh ground is best)

Bay leaf

2

Kidney beans

2 Can (20 oz)

Corn

2 Can (20 oz)

Tortilla chips

1 Cup (16 tbs)

(Garnishes)

Crushed red pepper

To Taste

Red pepper

To Taste

, crushed (Garnishes)

Cheese

1 Tablespoon

(Garnishes)
Nutrition Facts
Serving size
Calories 1254 Calories from Fat 231
% Daily Value*
Total Fat 26 g40.4%
Saturated Fat 4.2 g21.2%
Trans Fat 0.2 g
Cholesterol 3.2 mg
Sodium 590.2 mg24.6%
Total Carbohydrates 219 g73%
Dietary Fiber 35.6 g142.5%
Sugars 24.4 g
Protein 47 g94.1%
Vitamin A 217.3% Vitamin C 67.2%
Calcium 28.8% Iron 85.5%
*Based on a 2000 Calorie diet
Directions
Step1-1.Heat oil in saucepan .
Step2- Saute carrots, celery, onion, and garlic in oil until tender (be careful not to burn onion).
Step3-Add tomato paste and water and stir until well blended.
Step4-Add remaining ingredients, except garnishes, and simmer uncovered until thickened, about 25 minutes. Step5-Remove bay leaf.
Step6-To serve, put a few tortilla chips in bowl and ladle hot soup over.
Step7-Sprinkle with crushed red pepper to taste and top with shredded cheese.

Its really a wonderful and healthy recipe. Surely I will try it soon.
Posted on:
29 August 2008 - 1:43pm

Wonderful recipe. Am sure this is a great soup. I shall try it soon.
Posted on:
30 January 2008 - 11:45pm

absolutely delicious picture and recipe....
Posted on:
30 January 2008 - 2:54pm