»

Recipes

»

Mexican

»

Tortilla

»

Tortilla Cones
Tortilla Cones Recipe
Roll up a fun cone-shaped sandwich! You'll enjoy its fun shape just as much as its light, refreshing Southwest-inspired taste.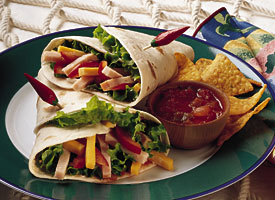 Ingredients
Cream cheese

4 Ounce

, softened

Flour tortillas

4

(6 inches in diameter)

Thick 'n chunky salsa

1⁄4 Cup (4 tbs)

Lettuce leaves

4

Smoked cooked turkey/Smoked cooked ham

4 Ounce

, cut into strips

Cheddar cheese

4 Ounce

, cut into strips

Red bell pepper

1 Small

, cut into strips
Nutrition Facts
Serving size
Calories 387 Calories from Fat 225
% Daily Value*
Total Fat 25 g39.1%
Saturated Fat 13 g65.2%
Trans Fat 0 g
Cholesterol 84.2 mg
Sodium 882.7 mg36.8%
Total Carbohydrates 20 g6.7%
Dietary Fiber 2 g7.8%
Sugars 3.7 g
Protein 19 g38.9%
Vitamin A 49.4% Vitamin C 73.2%
Calcium 25.5% Iron 11%
*Based on a 2000 Calorie diet
Directions
1. Spread cream cheese evenly on top 2/3 of each tortilla. Spread salsa over cream cheese.
2. Place lettuce leaf on each tortilla. Top with turkey, cheese and bell pepper strips.
3. Fold up bottom 1/3 of each tortilla, then roll up to make cone shape with folded end on bottom. Keep tortilla in cone shape with toothpick. Serve with additional salsa if desired.