»

Recipes

»

Indian

»

Tamil

»

Toor Dal Curry Balls
Toor Dal Curry Balls Recipe
ToorDal balls Curry is a very tasty and healthy dish. Try it and enjoy !!!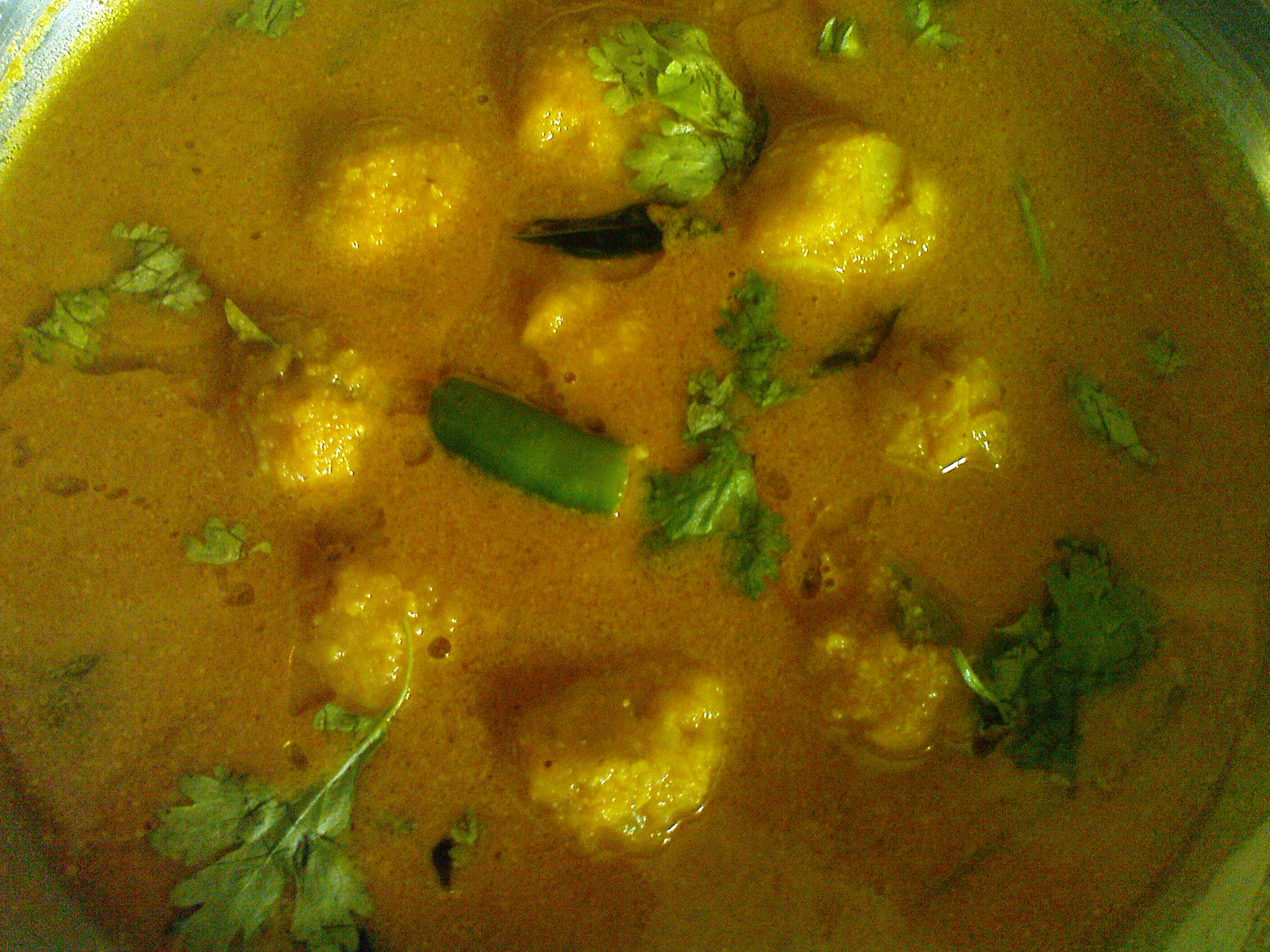 Recipe Story
This Toordal balls is high in protein and can be had during pregnancy as a good equivalent.
Ingredients
Toor dal

2 Cup (32 tbs)

(Soaked in water for 2hrs)

Onions

2

, finely chopped

Garlic

4 Clove (20 gm)

, finely chopped

Fennel powder

2 Teaspoon

Turmeric powder

1 Teaspoon

Red chili powder

2 Tablespoon

Salt

To Taste

Curry leaves

2 Tablespoon

Tamarind juice

1⁄2 Teaspoon

Coriander powder

4 Teaspoon

Red chili powder

3 Tablespoon

Onion

1

, finely chopped

Tomato

1

, finely chopped

Fenugreek seeds

1 Tablespoon

(methi)

Curry leaves

1 Tablespoon

Oil

50 Milliliter

(For frying)

Cilantro

1 Tablespoon

(for garnishing)

Grated coconut

1⁄2 Cup (8 tbs)

Fennel seeds

1 Tablespoon
Nutrition Facts
Serving size
Calories 674 Calories from Fat 203
% Daily Value*
Total Fat 23 g35.9%
Saturated Fat 5.5 g27.7%
Trans Fat 0 g
Cholesterol 0 mg
Sodium 206 mg8.6%
Total Carbohydrates 93 g31.1%
Dietary Fiber 30 g120%
Sugars 6 g
Protein 31 g61.5%
Vitamin A 26% Vitamin C 50.6%
Calcium 29.2% Iron 54.5%
*Based on a 2000 Calorie diet
Directions
1. Grind the coconut and fennel seeds in to a fine paste.
2. In the tamarind juice, add red chilly powder, turmeric powder, coriander powder, salt and the coconut paste. Mix well and keep aside.
3. Drain the water and grind the soaked toor dal slightly.
4. Add all the ingredients given for toorballs(paruppu urundai) and mix well. Make into balls and cook on steam.
5. Heat oil in kadai, add the fenugreek seeds, wait till it turns light brown and splatter.
6. Add the onions, garlic, curry leaves and saute till transparent. Add the tomato, saute for 2mins.
7. Now add the already mixed tamarind juice and let it to boil. Adjust salt.
8. Boil till the curry consistency is reached.
9. Finally add the steamed balls and gingerly oil. Garnish with cilantro.
Now the Toordal balls curry is ready !! Serve with hot rice !!