»

Recipes

»

Juice

»

Tomato Juice Cocktail
Tomato Juice Cocktail Recipe
This tomato juice cocktail is cool and healthy tomato juice blended along with cucmbers, celery and lemon for flavor. A hint of worcestershire sauce makes this vegetable juice a little savory. The parsley in it also adds to its nutrition value.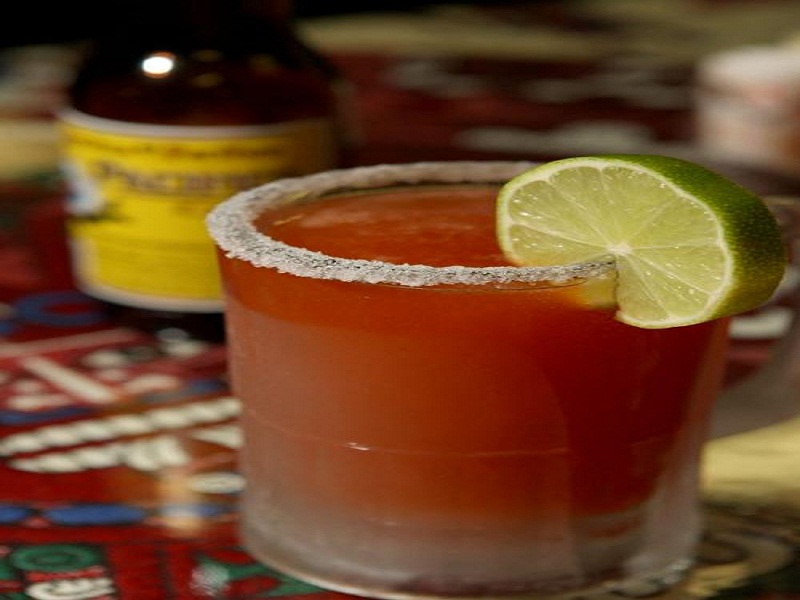 Ingredients
Tomato juice

2 Cup (32 tbs)

Thin lemon slice

1

, with peel

Parsley sprigs

2

Green pepper strip

1 1⁄2

Stalk celery

8

, cut into 1 inch pieces

Cucumber slice

1 1⁄2

, unpeeled

Worcestershire sauce

1⁄4 Teaspoon

Salt

1⁄2 Teaspoon

Crushed ice

1 Cup (16 tbs)
Nutrition Facts
Serving size
Calories 59 Calories from Fat 2
% Daily Value*
Total Fat 0.27 g0.42%
Saturated Fat 0.06 g0.3%
Trans Fat 0 g
Cholesterol 0 mg
Sodium 453.8 mg18.9%
Total Carbohydrates 14 g4.5%
Dietary Fiber 3.5 g13.9%
Sugars 9.1 g
Protein 2 g4%
Vitamin A 25.3% Vitamin C 59.1%
Calcium 6.4% Iron 5.5%
*Based on a 2000 Calorie diet
Directions
Put all ingredients except ice into Osterizer container, cover and process at LIQ UEFY until all ingredients are liquefied.
Remove cover and add ice, continue to pro cess until ice is liquefied.