»

Recipes

»

Indian

»

Tamil

»

Tomato Garlic Soup
Tomato Garlic Soup Recipe
Tomato garlic soup is a very healthy dish. Basically a south indian recipe and part of everyday menu. Enjoy!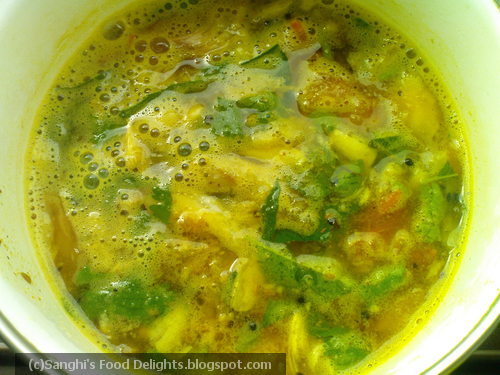 Ingredients
Tomato

1

, chopped

Tamarind juice

1⁄4 Cup (4 tbs)

Onion

1⁄2

, chopped

Green chilly

2

, slit lengthwise

Mustard seeds

1 Teaspoon

Asafoetida powder

1 Teaspoon

Salt

To Taste

Turmeric powder

1 Teaspoon

Oil

2 Tablespoon

(For Frying)

Black peppercorns

1 Teaspoon

Cumin seeds

1 1⁄2 Teaspoon

Garlic

5 Clove (25 gm)

(With Skin)
Nutrition Facts
Serving size
Calories 119 Calories from Fat 75
% Daily Value*
Total Fat 9 g13.1%
Saturated Fat 1.1 g5.4%
Trans Fat 0 g
Cholesterol 0 mg
Sodium 107.8 mg4.5%
Total Carbohydrates 10 g3.4%
Dietary Fiber 1.6 g6.3%
Sugars 3 g
Protein 2 g3.5%
Vitamin A 6.8% Vitamin C 33%
Calcium 4.6% Iron 12.1%
*Based on a 2000 Calorie diet
Directions
1. Crush and powder coarsely the ingredients given for crushing.
2. Heat oil in kadai, add the mustard seeds, asefeotida and leave to splutter.
3. Now add the onions, green chilly and saute till a min. And add the tomatoes, turmeric powder, salt and saute.
4. Add little water, till the tomatoes cook and mash.
5. Now add the crushed powder, tamarind juice, and enough water for the soup and adjust taste, put in high flame.
6. Chop the curry leaves and cilanto and sprinkle on top.
7. When the soup gets the first boil, turn off the flame.

Mmm.. Garlic soup is ready to serve with plain rice. Enjoy!!

nainajani says :
this is a lovely recipe
Posted on:
27 July 2009 - 2:05am

this Tomato Garlic soup (Thakkali poondu rasam) is just awesome sanghy... i have once tried rasam with rice - however, the spice factor was bit high and in that lemn juice was used instead of tomato. guess it would work well with this recipe too.. isnt it?
Posted on:
17 May 2009 - 1:13am

such a lovely soup, nice and green and I see that it is quite light. I like my soups a little watery... but can I skip the Asefeotida ?? I'm not a fan..it wont affect too much i hope??
Posted on:
15 May 2009 - 2:25am