»

Recipes

»

Curry

»

Tomato Fish Curry
Tomato Fish Curry Recipe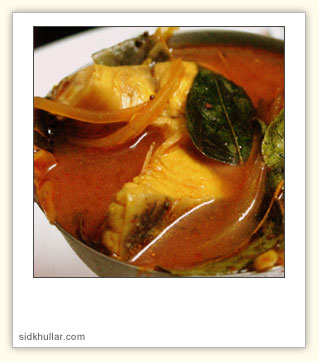 Ingredients
Fish

1 Kilogram

, cut into slices

Onions

2 Cup (32 tbs)

, sliced

Curry leaves

1 Tablespoon

Black mustard leaves

1 Tablespoon

Ginger paste

1 1⁄2 Tablespoon

Tomato puree

1⁄2 Cup (8 tbs)

Lemon

1⁄2

Salt

1 Teaspoon

(For the Marinade)

Chilli powder

1 Teaspoon

(For the Marinade)

Turmeric powder

1 Teaspoon

(For the Marinade)
Nutrition Facts
Serving size
Calories 463 Calories from Fat 110
% Daily Value*
Total Fat 12 g18.8%
Saturated Fat 2 g10.2%
Trans Fat 0 g
Cholesterol 173.3 mg
Sodium 903.5 mg37.6%
Total Carbohydrates 18 g5.9%
Dietary Fiber 4.2 g16.9%
Sugars 7 g
Protein 69 g137.9%
Vitamin A 32.1% Vitamin C 41.8%
Calcium 9.6% Iron 25.3%
*Based on a 2000 Calorie diet
Directions
1. Smear the fish with the ingredients in the 'Marinade' and let lie for 1 hour.Lightly fry and keep aside.
2. Heat some more oil in a pan
3. When hot (a wooden implement dipped in the oil should bubble heavily, readily) add the mustard seeds
4. When they're done crackling, add the onions, stir, follow with the chilli powder, turmeric powder and salt.
5. Stir. Add the ginger paste. Stir fry for 1 minute. Add the tomato puree and stir fry for 30 seconds.
6. Add about a litre of water. Better still if you have fish stock.
7. Bring to the boil. Add the curry leaves and the fish.
8. Cover cooked for 20 minutes.
9. Take off the heat and squeeze half a lemon over it and stir. Garnish with chopped coriander

Note: If you like, thicken by sprinkling some whole wheat flour and stirring.
Serve with hot, steamed white rice.