»

Recipes

»

American

»

Oregon
Tomato Consomme Recipe
Tomato Consomme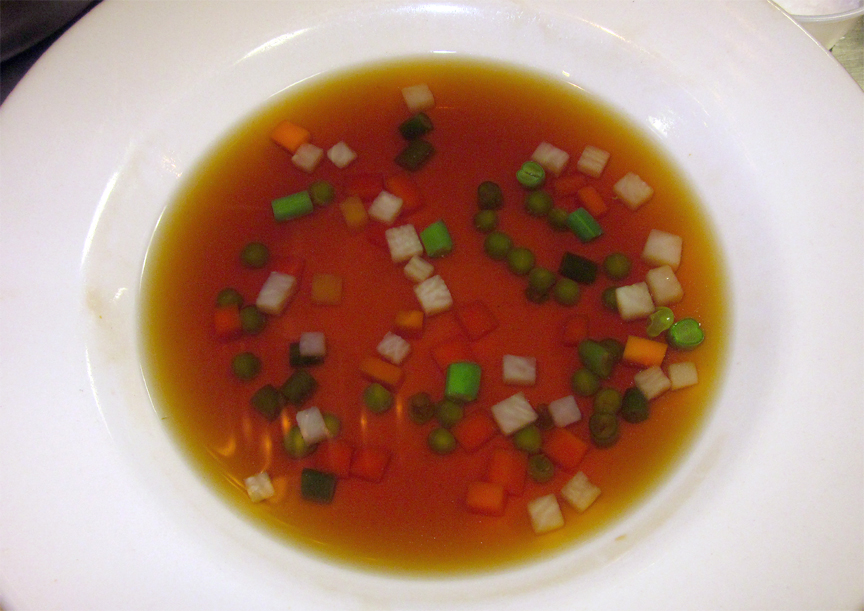 Ingredients
Beef bouillon cubes

4

Celery leaves

4

Onion

1 Medium

, sliced

Parsley

1⁄4 Cup (4 tbs)

, chopped

Salt

1 Teaspoon

Basil

1⁄2 Teaspoon

Bay leaves

2

Tomato juice

46 Ounce
Nutrition Facts
Serving size
Calories 67 Calories from Fat 10
% Daily Value*
Total Fat 1 g1.6%
Saturated Fat 0.05 g0.27%
Trans Fat 0 g
Cholesterol 1.5 mg
Sodium 959 mg40%
Total Carbohydrates 14 g4.8%
Dietary Fiber 2.1 g8.2%
Sugars 9.7 g
Protein 3 g5.7%
Vitamin A 27% Vitamin C 77.8%
Calcium 4.7% Iron 7.6%
*Based on a 2000 Calorie diet
Directions
MAKING
1) Take a large saucepan and combine celery leaves, bouillon cubes, parsley, onion, basil, bay leaves, 2 cups water and salt in it.
2) Bring the mixture to a boil.
3) Reduce heat and simmer for about 15 minutes.
4) Add tomato juice and simmer for another 5 minutes or until hot.
5) Strain the broth.

SERVING
6) Serve Tomato Consommé hot.