»

Recipes

»

Pizza
Tomato Pizza Recipe
I have made something close to this Tomato Pizza before. And hence, I had expected this Tomato Pizza to turn out this nice. Cook it to realize how fabulous it is!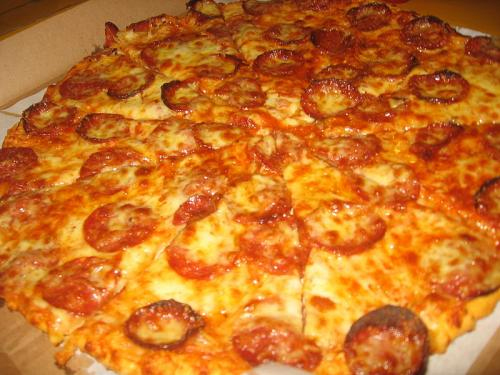 Ingredients
Tomatoes

5 Large

, cored, sliced

Pizza crust

1

, uncooked

Dijon mustard

45 Milliliter

(3 Tablespoon)

Butter/Small amount of oil

1 Tablespoon

(1 Knob)

Emmenthal cheese

1⁄2 Pound

, cut into thin strips (225 Gram)

Olive oil

15 Milliliter

(1 Tablespoon)

Garlic

1 Clove (5 gm)

, finely sliced

Salt

To Taste

Pepper

To Taste
Nutrition Facts
Serving size: Complete recipe
Calories 1953 Calories from Fat 861
% Daily Value*
Total Fat 116 g177.9%
Saturated Fat 53.9 g269.3%
Trans Fat 0 g
Cholesterol 232.3 mg
Sodium 1199.4 mg50%
Total Carbohydrates 161 g53.8%
Dietary Fiber 23.2 g92.8%
Sugars 27.5 g
Protein 87 g173%
Vitamin A 224.7% Vitamin C 195.2%
Calcium 372.2% Iron 73.1%
*Based on a 2000 Calorie diet
Directions
–  Preheat oven to 350 °F (175 °C).
–  Spread pizza dough with mustard and set aside.
–  In a skillet, heat butter or oil, and lightly saute onions, then spread over top of crust and sprinkle with basil.
–  Cover mixture with cheese strips. Arrange tomato slices, and season with salt and pepper.
–  In a bowl, combine olive oil and garlic and pour mixture over tomatoes.
–  Bake for 30 minutes. Garnish with black olives and basil leaves.