»

Recipes
Tomato Marmalade Recipe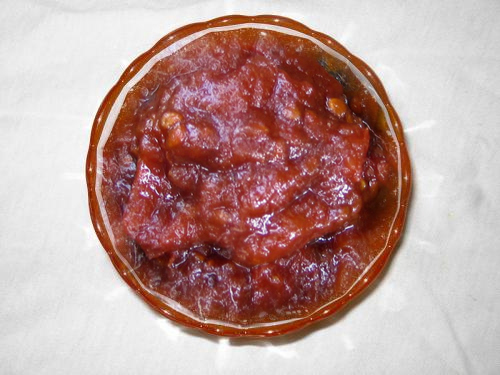 Ingredients
Peeled tomatoes

4 Cup (64 tbs)

Sugar

4 Cup (64 tbs)

Salt

1⁄2 Teaspoon

Vinegar

1⁄4 Cup (4 tbs)

Lemon

1 Small

, thinly sliced

Ground cinnamon

1⁄2 Teaspoon

Ground cloves

1⁄2 Teaspoon

Red cayenne pepper

1⁄2 Teaspoon
Nutrition Facts
Serving size: Complete recipe
Calories 3333 Calories from Fat 9
% Daily Value*
Total Fat 1 g1.6%
Saturated Fat 0.24 g1.2%
Trans Fat 0 g
Cholesterol 0 mg
Sodium 2723.6 mg113.5%
Total Carbohydrates 848 g282.6%
Dietary Fiber 12.3 g49.2%
Sugars 823.5 g
Protein 9 g17.7%
Vitamin A 140.4% Vitamin C 166.8%
Calcium 39.4% Iron 5.3%
*Based on a 2000 Calorie diet
Directions
MAKING
1.Take a Dutch oven or pot, put tomatoes, sugar, salt, vinegar, lemon,cinnamon, cloves and pepper.
2.Heat the ingredients on medium flame.
3.Keep stirring so that the mixture does not stick.
4.Allow the mixture to boil and once done, cook it further for 20 minutes.
5.Let the mixture settle at room temperature.
6.Transfer the mixture to hot sterlized jars and close immiediately.
7.Chill the jars.

SERVING
8.Serve as food accompaniment.