»

Recipes
Tomato Marmalade Recipe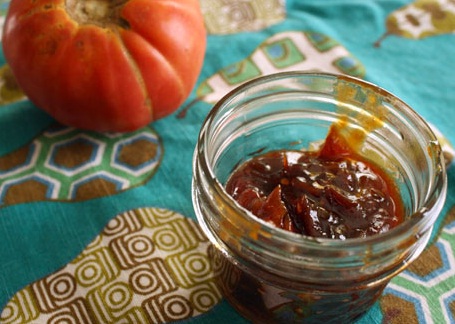 Ingredients
Oranges

3

Lemons

2

Water

2 Cup (32 tbs)

Peeled sliced tomatoes

3 Quart

(Ripe Ones)

Sugar

6 Cup (96 tbs)

Salt

1 Teaspoon

Cinnamon sticks

6

Whole cloves

1 Tablespoon

Whole allspice

6
Nutrition Facts
Serving size: Complete recipe
Calories 5566 Calories from Fat 13
% Daily Value*
Total Fat 2 g2.3%
Saturated Fat 0.21 g1%
Trans Fat 0 g
Cholesterol 0 mg
Sodium 2707.5 mg112.8%
Total Carbohydrates 1386 g461.9%
Dietary Fiber 67 g267.9%
Sugars 1242.8 g
Protein 27 g54.3%
Vitamin A 559.2% Vitamin C 1261.1%
Calcium 170.3% Iron 14.3%
*Based on a 2000 Calorie diet
Directions
Remove the outer rind from the oranges and lemons with a vegetable peeler, then cut into thin slivers with a knife or scissors.
Place in a saucepan, then add the water and simmer, covered, for 15 minutes.
Drain and reserve the rind.
Peel the oranges and lemons, then remove the seed and cut into small pieces.
Combine the tomatoes, sugar, salt, cooked rind and cut-up oranges and lemons in a large heavy kettle and mix lightly.
Tie the cinnamon sticks, cloves and allspice in several layers of cheese cloth and add to the tomato mixture.
Bring to a boil over low heat, stirring almost constantly.
Boil over low heat, stirring almost constantly, for 1 hour or until marmalade is thick and syrupy.
Remove from heat and remove the spices.
Ladle immediately into hot jelly jars or canning jars.
Fill to within 1/8 inch of top and screw caps on evenly and tightly.
Invert for several seconds and stand jars upright to cool.
Image Courtesy :
http://www.flickr.com/photos/glueandglitter/5999579356/