»

Recipes

»

Thai
Tom Kha Gai Recipe
its increase the taste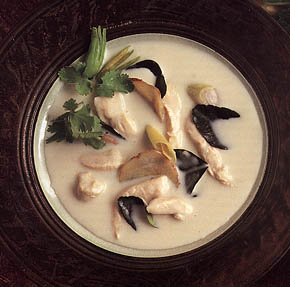 Ingredients
Siamese ginger

2 Tablespoon

, sliced

Lemon grass stalk

1

, cut into 1 inch pieces

Hot pepper

1 1⁄2 Tablespoon

, chopped

Mint leaves

1⁄3 Cup (5.33 tbs)

Coconut milk

4 Cup (64 tbs)

Kaffir lime

4

(Leaves)

Chicken breast

1 1⁄2 Cup (24 tbs)

, slices

Fish sauce

3 1⁄2 Tablespoon

Lime juice

2 Tablespoon

Green onions

2

, cut into 1" pieces
Directions
Using a medium - sized pot, add coconut milk and place over medium heat. Add Siamese ginger, lemon grass Kaffir lime leaves. Cook 1 - 2 minutes.

Add the chicken meat and bamboo shoots. Bring to a boil. Cook for 5 minutes.

Pour in fish sauce and green onions. Remove from heat. Stir in chopped hot peppers, lime juice, and mint leaves.

Serve hot with steamed Jasmine rice.

JudgeRight says :
When I discovered this dish I became a staunch fan of Thai food. Add plenty of sticky rice and you have an inexpensive, quick, easy, and very tasty meal.
Posted on:
24 December 2011 - 8:25pm
It is truly a comforting meal! Every Thai food lover must try this dish.
Posted on:
11 January 2012 - 9:49am