»

Recipes

»

Toffee

»

Toffee Butter Crunch
Toffee Butter Crunch Recipe
Toffee Butter Crunch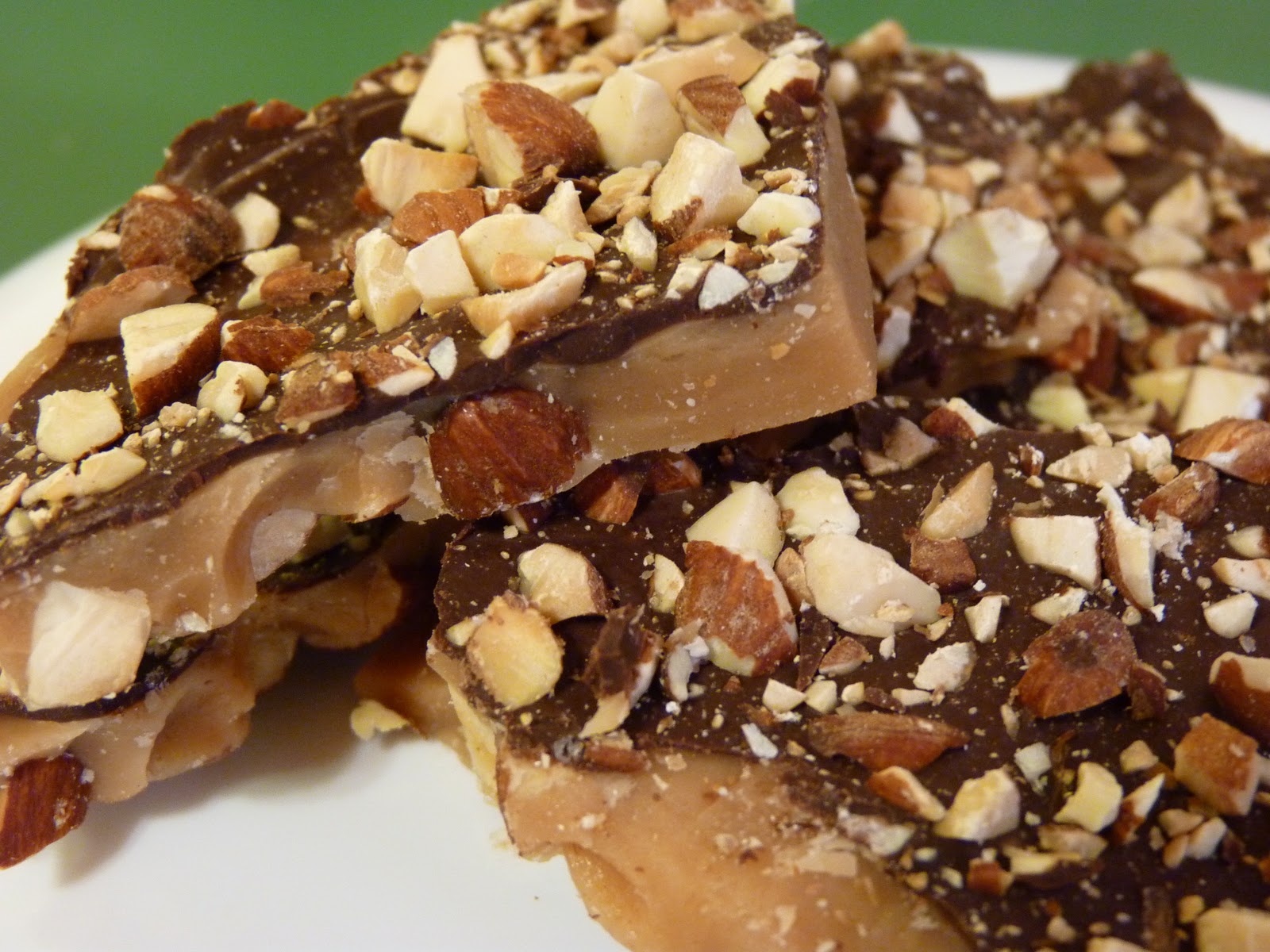 Ingredients
Chopped pecans/Toasted almonds

1 Cup (16 tbs)

(1/2 cup finely chopped and 1/2 cup coarsely chopped)

Butter

1 Cup (16 tbs)

Sugar

1 Cup (16 tbs)

Water

3 Tablespoon

Light corn syrup

1 Tablespoon

Semi sweet chocolate pieces/Milk chocolate pieces

3⁄4 Cup (12 tbs)
Nutrition Facts
Serving size
Calories 953 Calories from Fat 636
% Daily Value*
Total Fat 74 g113.2%
Saturated Fat 33.3 g166.5%
Trans Fat 0 g
Cholesterol 121 mg
Sodium 93.4 mg3.9%
Total Carbohydrates 78 g26%
Dietary Fiber 2.7 g10.9%
Sugars 63.8 g
Protein 4 g8.3%
Vitamin A 28.4% Vitamin C 0.52%
Calcium 3.4% Iron 4.1%
*Based on a 2000 Calorie diet
Directions
Line a 13 x 9" pan with foil, extending foil over edges of pan.
Sprinkle coarsely chopped nuts on bottom of pan, set aside.
Butter the sides of a heavy 2-quart saucepan.
In pan melt butter over low heat.
Stir in sugar, water and corn syrup.
Cook over medium-high heat to boiling, stirring constantly with a wooden spoon.
This takes about 4 minutes.
Clip candy thermometer to pan.
Cook over medium heat, stirring frequently till thermometer registers 290°F, soft crack stage.
Reaching soft crack stage should take about 15 minutes.
Remove pan from heat.
Pour mixture into prepared pan.
Let stand 2-3 minutes or till surface is firm.
Sprinkle with chocolate pieces, let stand 1-2 minutes.
When softened, spread pieces evenly over mixture.
Sprinkle with 1/2 cup finely chopped nuts, press nuts lightly into melted chocolate.
Chill till firm.
Lift candy out of pan, break into pieces.
Store, tightly covered.
Makes about 1 1/2 pounds.