»

Recipes

»

Paste

»

Tomato Paste For The Freezer
Tomato Paste For The Freezer Recipe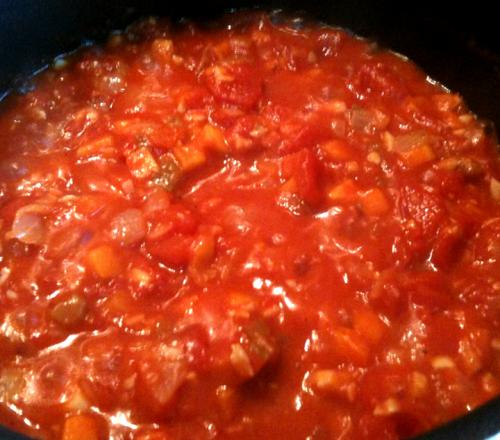 Ingredients
| | | |
| --- | --- | --- |
| | Ripe tomatoes | 4 Pound |
| | Bacon slices | 6 |
| | Onion | 1 |
| | Oil | 1 Tablespoon |
| | Sugar | 1 Pinch |
| | Ground nutmeg | 1 Pinch |
| | Bay leaves | 2 |
| | Salt | To Taste |
| | Pepper | To Taste |
Nutrition Facts
Serving size
Calories 146 Calories from Fat 52
% Daily Value*
Total Fat 6 g9.2%
Saturated Fat 1.1 g5.6%
Trans Fat 0 g
Cholesterol 2.6 mg
Sodium 171.4 mg7.1%
Total Carbohydrates 22 g7.2%
Dietary Fiber 6.2 g24.8%
Sugars 13.6 g
Protein 5 g10.2%
Vitamin A 76.2% Vitamin C 100.6%
Calcium 5.8% Iron 8.4%
*Based on a 2000 Calorie diet
Directions
Wash the tomatoes but do not peel them.
Cut them in eighths and chop coarsely .
Put to one side.
Chop the bacon and onion coarsely .
Heat the oil in a pan and cook the bacon and onion for 5 minutes, stirring well until the onion is soft and golden.
Add the tomatoes and stir over gentle heat for 10 I minutes.
Add just enough water to cover, and season with salt, ( pepper, sugar, nutmeg and bay leaves.
Cover and simmer until i the tomatoes have completely disintegrated and the mixture is 1 soft and thick.
Cool slightly and remove the bay leaves.
Process in small quantities until creamy .
Put through a sieve and leave the paste to cool.
Put into rigid freezer containers and cover, leaving headspace for expansion.
Seal, label and freeze.
Note This tomato paste makes a useful base for sauces and is particularly good for sauces to be served with pasta.
It may also be used as a basis for soups.