»

Recipes

»

Three Fruit Marmalade
Three Fruit Marmalade Recipe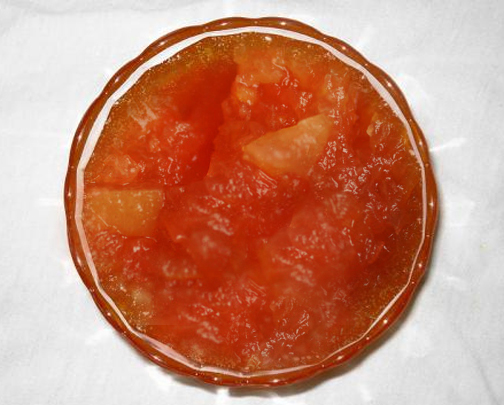 Summary
Preparation Time
10 Min
Cooking Time
20 Min
Ready In
30 Min
Difficulty Level
Very Easy
Ingredients
Lemons

2

Sweet orange

1 Large

Grapefruit

1

Water

1 1⁄2 Pint

(900 Milliliter)

Sugar

3 Pound

, warmed (1.4 Kilogram)
Nutrition Facts
Serving size: Complete recipe
Calories 5468 Calories from Fat 9
% Daily Value*
Total Fat 1 g1.5%
Saturated Fat 0.08 g0.41%
Trans Fat 0 g
Cholesterol 0 mg
Sodium 5.4 mg0.2%
Total Carbohydrates 1417 g472.2%
Dietary Fiber 9.3 g37.4%
Sugars 1359.6 g
Protein 5 g9.6%
Vitamin A 22.2% Vitamin C 312.9%
Calcium 20.5% Iron 12.4%
*Based on a 2000 Calorie diet
Directions
Wash the fruit.
Cut the lemons and orange in half, squeeze out the juice and remove the pips.
Halve the grapefruit, squeeze out the juice; scoop out the pips and pulp and tie it with the other pips in a piece of muslin.
Remove any thick pith from the grapefruit, then cut all the skins into thin slices.
Put the fruit, muslin bag of pips, juice and water in the pressure cooker.
Put on the lid and bring to high (15 lb) pressure.
Cook for 20 minutes.
Reduce the pressure slowly.
Allow the fruit to cool a little, then make sure that the peel is really soft by squeezing it between the thumb and forefinger.
Remove the bag of pips and squeeze the juice from the bag back into the cooker.
Discard the bag.
Add the sugar and stir until it is dissolved.
Return the uncovered cooker to the heat and boil rapidly, stirring all the time, until setting point is reached.
Remove the cooker from the heat and allow the contents to stand for about 10 minutes.
Then stir the marmalade, pot and cover.