»

Recipes

»

Dressing
Thousand Island Dressing Recipe
Thousand Island Dressing has a grand taste. Thousand Island Dressing gets its taste from mayonnaise mixed with cream and chili sauce, garnished with pepper. Thousand Island Dressing is inspired by many food joints around the world.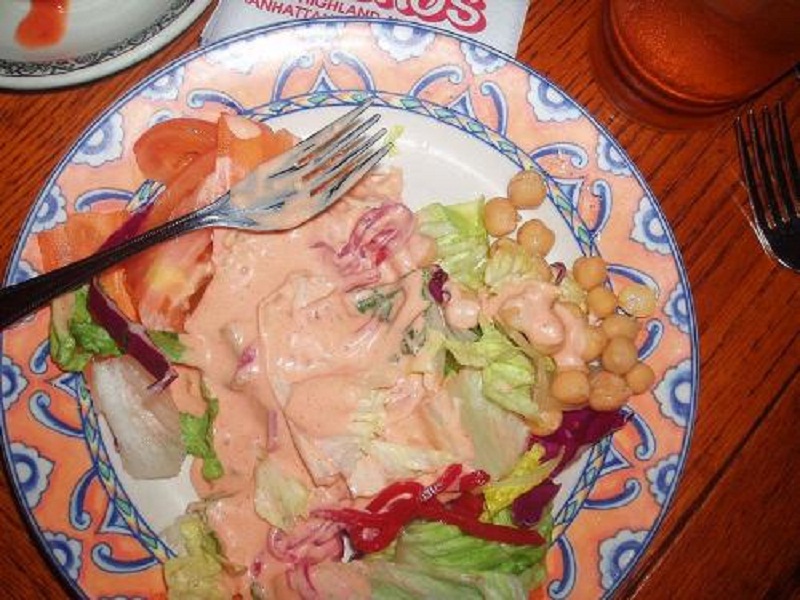 Ingredients
Mayonnaise

250 Milliliter

Single cream

2 Tablespoon

Stuffed green olives

30 Gram

, finely chopped

Finely chopped green pepper

2 Tablespoon

Finely chopped onion

2 Tablespoon

Sweet chili sauce

2 Tablespoon
Nutrition Facts
Serving size: Complete recipe
Calories 1992 Calories from Fat 1869
% Daily Value*
Total Fat 207 g318.8%
Saturated Fat 22.5 g112.3%
Trans Fat 0 g
Cholesterol 198.4 mg
Sodium 2301.3 mg95.9%
Total Carbohydrates 22 g7.2%
Dietary Fiber 0.96 g3.8%
Sugars 12.8 g
Protein 2 g3.5%
Vitamin A 11% Vitamin C 125.3%
Calcium 4.1% Iron 2.4%
*Based on a 2000 Calorie diet
Directions
Beat the mayonnaise and cream together in a bowl.
Add the remaining ingredients and mix well.
Cover the bowl and chill the dressing for at least 2 hours before serving.