»

Recipes

»

Brownie

»

Brownie

»

The Ultimate Brownie
The Ultimate Brownie Recipe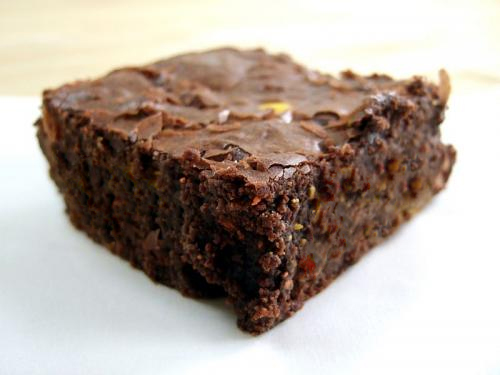 Ingredients
All-purpose flour - 1 3/4 cups, unsifted

Salt

1/4 Teaspoon

Sugar

2 Cup (16 tbs)

Butter/Margarine

1/2 Cup (16 tbs)

Eggs

4

Vanilla

1 Teaspoon

Chocolate square

4

Walnuts - 1 cup, toasted and coarsely chopped

Icing of your choice.
Directions
GETTING READY

1) Preheat the oven at 350 degrees for 3 minutes.
2) Take a 15x10x1 inch jelly roll pan and grease it.

MAKING

3) Take a bowl and mix the flour and salt. keep the mixture aside.
4) Take sugar, butter or margarine, eggs and vanilla in a big bowl. Beat the mixture.
5) Add the melted chocolate and blend them properly.
6) Add the flour mixture and walnuts.
7) Take the pan and pour the batter into it.
8) Bake the dish at 350 degrees for 25 minutes.
9) Allow the brownies to cool.
10) Meanwhile prepare the icing.

SERVING

11) Spread the icing over the brownies.
12) Cut the brownies into 24 squares and serve.