»

Recipes

»

Lamb

»

The Brothers Lamb Shanks
The Brothers Lamb Shanks Recipe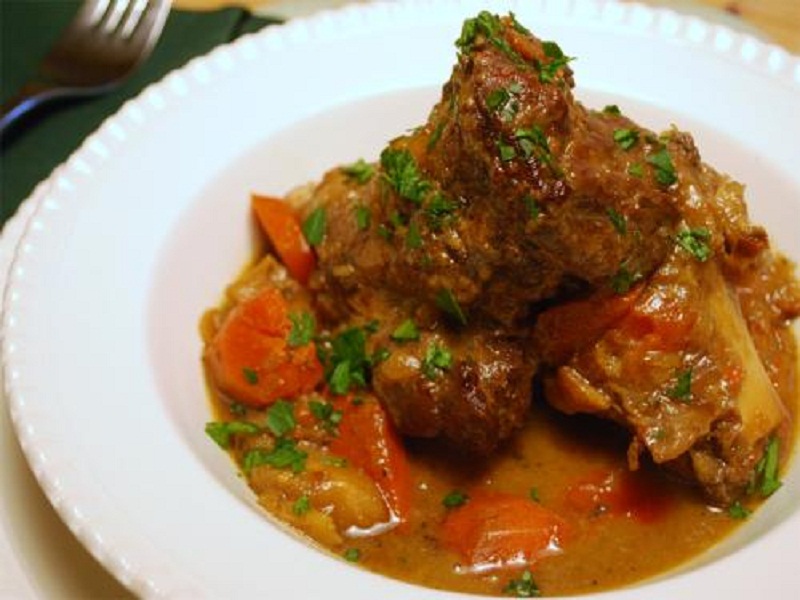 Ingredients
Salt

1 1⁄2 Teaspoon

Freshly ground pepper

1⁄2 Teaspoon

Dried rosemary leaves

1⁄2 Teaspoon

Lamb shanks

4 Pound

(4 Shanks, 3/4 - 1 Pound Each)

Tomato paste

1 Tablespoon

Golden sherry

3⁄4 Cup (12 tbs)

Eggplant

1 Pound

, cut in chunks (1 Large Sized)

Green peppers

2 Large

, cored, seeded, and cut in chunks

Onions

3 Medium

, peeled and cut into wedges

Tomatoes

3 Medium

, cut into wedges

Chopped parsley

2 Tablespoon

Minced garlic

1 Teaspoon
Nutrition Facts
Serving size
Calories 1066 Calories from Fat 560
% Daily Value*
Total Fat 62 g95.5%
Saturated Fat 26.6 g132.8%
Trans Fat 0 g
Cholesterol 303.9 mg
Sodium 1151.3 mg48%
Total Carbohydrates 34 g11.4%
Dietary Fiber 10 g39.9%
Sugars 14.3 g
Protein 89 g178.5%
Vitamin A 36.9% Vitamin C 182.9%
Calcium 12.5% Iron 54.9%
*Based on a 2000 Calorie diet
Directions
GETTING READY
1. Arrange the shanks in a baking pan.
2. Combine the salt pepper and rosemary and season the lamb shanks with the seasoning, turning them to season both sides.
3. Place the baking or roasting pan until a broiler and sear the meat for 5 minutes each side.
4. Remove the browned lamb from the oven.
5. Blend the tomato paste and sherry and pour the sauce over the lamb. Turn to coat both sides.
6. Cover the pan and set aside for 2 hours allowing the meat to marinate in the tomato sherry sauce. Turn the shanks occasionally to keep them coated with the sauce.
7. Preheat the oven to 300 degree F

MAKING
8. In a large bowl, combine the eggplant, peppers, onions and tomatoes.
9. Sprinkle with remaining seasoning, parsley and garlic.
10. When the meat has marinated for two hours, surround with the vegetables.
11. Cover the pan with foil and transfer it to the preheated oven,.
12. Braise the meat for 30 minutes.
13. Remove foil, turn the shanks over and stir the vegetables. Add more sherry diluted with water, if the mixture is too dry.
14. Re-cover and continue to braise another 30 to 40 minutes or until the meat and vegetables are tender.

SERVING
15. Serve the Brothers Lamb Shanks over a pilaf or with crusty bread if you like.