»

Recipes

»

Thai

»

Thai Style Shrimp
Thai Style Shrimp Recipe
"A dish made in half an hour! Plump shrimp are sauteed quickly and then simmered in coconut milk infused with garlic and ginger. Serve with white rice and steamed broccoli for a luscious quick dinner."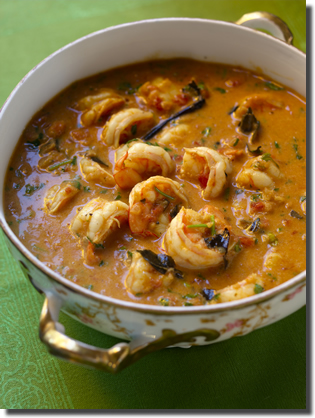 Ingredients
Garlic

4 Clove (20 gm)

(peeled)

Fresh ginger root

1 Inch

Jalapeno pepper

1

(fresh)

Salt

1⁄2 Teaspoon

Powdered turmeric

1⁄2 Teaspoon

Vegetable oil

2 Tablespoon

Onion

1 Medium

, diced

Medium shrimp

1 Pound

(peeled and deveined)

Tomatoes

2

, diced (seeded)

Coconut milk

1 Cup (16 tbs)

Chopped basil

3 Tablespoon

(fresh)
Directions
1. Combine the garlic, ginger, jalapeno, salt and turmeric in the container of a food processor or blender. Process to a smooth paste. Set aside.

2. Heat oil in a skillet over medium heat. Add onion, and cook until translucent, stirring frequently. Mix in the spice paste, and cook for a few minutes to release the oils.

3. Add shrimp, and cook for a few minutes until pink, then add the tomatoes and coconut milk. Cover, and simmer for about 5 minutes, then remove the lid and simmer an additional 5 minutes to thicken the sauce. Stir in the fresh basil during the last minute of cooking.

nice pix
Posted on:
9 October 2007 - 8:49pm

This would taste more Thai if you used Thai Basil, a splash nam pla-fish sauce and less salt, and also used Thai Dragon red ripe chiles. I am an avid Thai-chef so these comments are from a Thai-purist, not to critisize. It is a beautiful presentation and I am sure it is very tasty!
Posted on:
26 July 2007 - 4:38pm