»

Recipes

»

Thai

»

Thai Shrimp And Squash Soup
Thai Shrimp and Squash Soup Recipe
An aromatic herb used throughout Southeast Asia, lemongrass resembles a green onion in shape and has long, thin, gray-green leaves. Kaffir lime leaves, from the Kaffir lime tree, have a distinctive shape: They are attached in pairs, end to end. Both of these ingredients can be found in well-stocked supermarkets or Asian markets.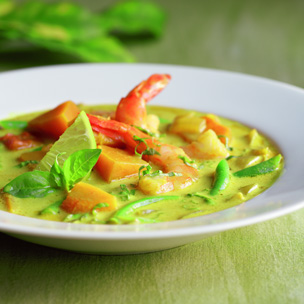 Ingredients
Olive oil

2 Tablespoon

Yellow onions

2

, diced

Finley minced garlic

2 Tablespoon

Thai curry powder

3 Teaspoon

Chinese ginger powder/Regular ground ginger

3 Teaspoon

Turmeric

1⁄2 Teaspoon

Serrano chili

1⁄2

, seeded

Lemongrass pieces

2

, lightly bruised in a mortar with a pestle (each about 3 inches long)

Chicken stock

4 Cup (64 tbs)

Fish sauce

3 Tablespoon

Butternut squash

1 1⁄2 Pound

, cut into 1/2-inch cubes (peeled)

Coconut milk

2 Cup (32 tbs)

Green beans

1⁄2 Pound

, cut into 1-inch pieces (trimmed)

Medium shrimp

1 1⁄2 Pound

(peeled and deveined)

Thai basil/Regular basil

1 Teaspoon

, cut into thin strips (for garnish)

Lime wedges

8

(use more if needed)
Nutrition Facts
Serving size
Calories 397 Calories from Fat 193
% Daily Value*
Total Fat 23 g34.8%
Saturated Fat 15 g74.9%
Trans Fat 0 g
Cholesterol 132.9 mg
Sodium 750 mg31.2%
Total Carbohydrates 28 g9.3%
Dietary Fiber 5.8 g23.2%
Sugars 6.8 g
Protein 24 g48.7%
Vitamin A 185.2% Vitamin C 42.6%
Calcium 12.4% Iron 28.3%
*Based on a 2000 Calorie diet
Directions
In a large pot over medium heat, warm the olive oil. Add the onions and cook, stirring, until soft and translucent, about 5 minutes. Add the garlic, curry powder, ginger powder, turmeric, chili, lemongrass and Kaffir lime leaf and cook, stirring frequently so the ingredients do not burn, about 3 minutes. Add the stock and fish sauce, cover the pot and simmer for 5 minutes.

Add the butternut squash, cover and cook until the squash is tender when pierced with a knife, 5 to 7 minutes. Add the coconut milk and green beans, cover and cook until the beans are tender, about 5 minutes. Add the shrimp and cook until opaque, 3 to 5 minutes.

Remove the pot from the heat. Remove the chili, lemongrass and Kaffir lime leaf and discard. Ladle the soup into warmed bowls and garnish with basil and lime wedges. Serve immediately. Serves 8 to 10.