»

Recipes

»

Thai

»

Thai Coconut Chicken
Thai Coconut Chicken Recipe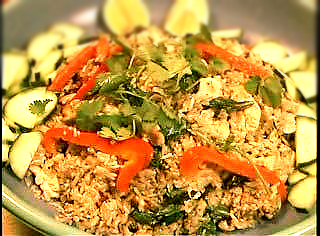 Ingredients
Dry jasmine rice

2 Cup (32 tbs)

Water

3 Cup (48 tbs)

Boneless skinless chicken breast halves

1 1⁄2 Pound

, cubed

Curry powder

1 Tablespoon

Asparagus

2 Cup (32 tbs)

(1 inch pieces)

Snow peas

1 Cup (16 tbs)

Shredded carrot

1⁄2 Cup (8 tbs)

Chopped green onion

1 Cup (16 tbs)

Canned coconut milk

14 Ounce
Nutrition Facts
Serving size
Calories 793 Calories from Fat 217
% Daily Value*
Total Fat 24 g37.1%
Saturated Fat 18.4 g92.1%
Trans Fat 0 g
Cholesterol 98.7 mg
Sodium 144.6 mg6%
Total Carbohydrates 94 g31.4%
Dietary Fiber 5.9 g23.7%
Sugars 4.9 g
Protein 53 g107%
Vitamin A 121.9% Vitamin C 89.9%
Calcium 14.9% Iron 31.1%
*Based on a 2000 Calorie diet
Directions
1. In a 2 quart saucepan, combine water and rice. Cover, and bring to a boil over high heat. Reduce heat, and simmer for 20 minutes.

2. In a medium size bowl, combine the chicken and curry powder, and toss to coat.

3. Coat a large nonstick skillet with cooking spray. Cook the chicken, stirring frequently, over medium-high heat for 4 minutes. Mix in the asparagus, snow peas, carrots and green onions; cook for 3 minutes. Pour in the coconut milk , continue cooking until sauce is hot, and chicken is cooked through. Serve over the hot, cooked rice.

Tom Kha Gai is always a popular soup with Western palates. However, I have never seen curry powder used to make this dish. Thais use curry paste. Most of the time pre-mixed curry powders are of Chinese or Indian origination and contain non-Thai spices, but I am sure this is tasty, but not so real Thai-taste.
Posted on:
26 July 2007 - 4:43pm