»

Recipes

»

Thai

»

Thai Chicken Satay
Thai Chicken Satay Recipe
It's Yummy.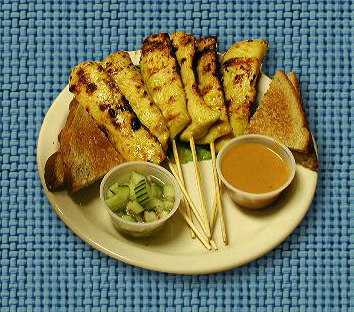 Ingredients
Canned coconut milk

1⁄2 Cup (8 tbs)

Ground coriander

1 1⁄2 Teaspoon

Curry powder

1 Teaspoon

(yellow variety)

Fish sauce

1 Teaspoon

Chili oil

1⁄2 Teaspoon

Boneless skinless chicken breast halves

1 Pound

, cut into strips

Chopped cilantro

1 Tablespoon

(fresh)

Chopped unsalted peanuts

1 Tablespoon

Prepared thai peanut sauce

1 Cup (16 tbs)
Things You Will Need
12 wooden skewers, soaked in water for 15 minutes.
Directions
In a medium bowl, stir together the coconut milk, ground coriander, curry powder, fish sauce, and chili oil. Add the chicken breast strips, and stir to coat. Cover, and refrigerate for at least 30 minutes, and up to 2 hours.
Preheat an indoor or outdoor grill for high heat. Thread the chicken strips onto skewers. Discard marinade.
Grill chicken for 2 to 3 minutes per side, until no longer pink. Time will depend on how thick your strips are. Transfer to a serving plate, and garnish with cilantro and peanuts. Serve with peanut sauce for dipping.

David Dabbs says :
What is cilantro ? Can it and Thai peanut Sauce be bought in main supermarkets ?
Posted on:
26 June 2009 - 4:51am
David, Cilantro is one of the main herbs used in Asian cooking - It is also used throughout N. Africa's Mediterranean regions, Mexico & S. America. It is also known as coriander and resembles Italian parsley in appearance. The taste has been described as "metallic" and "soapy" but do not allow that to put you off because cilantro's depth and pungency adds a whole spectrum of flavor you would miss and wonder: "Why does this lack something?" It is totally distinct and an important part of the cuisines I mentioned. If you have eaten Indian curry or Mexican food, you have eaten cilantro. It is used with jasmine infused rice, being stirred in at the end of steaming and in Mexican salsa. It has a wonderful flavor and is very distinct. Here in S. CA it is a staple in the produce department but can be found in a lot of produce markets in the N.E. and N.W. of the USA. Thai peanut sauce can be found in the Asian section of most supermarkets but is very easy to make. Variations of peanut sauce is found throughout Asia, each region has its own recipe and varies from piquant to mild and sweet.
Posted on:
7 August 2009 - 6:28pm