»

Recipes

»

Thai

»

Thai Dip

»

Thai Chicken Dip
Thai Chicken Dip Recipe
You'll feel guilty for all the praise, because it is so easy to make.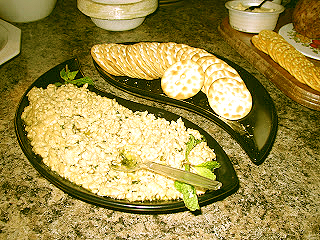 Ingredients
Vegetable oil

2 Tablespoon

Ground chicken

1 1⁄2 Pound

Red chili pepper

2 Small

Garlic

2 Clove (10 gm)

, crushed

Chunky peanut butter

1⁄2 Cup (8 tbs)

Lime juice

1⁄3 Cup (5.33 tbs)

Coconut cream

1 Cup (16 tbs)

Fish sauce

1 1⁄2 Tablespoon

Chopped vietnamese mint

1 Tablespoon

(chopped finely)
Nutrition Facts
Serving size
Calories 145 Calories from Fat 82
% Daily Value*
Total Fat 9 g14.5%
Saturated Fat 3.4 g16.8%
Trans Fat 0 g
Cholesterol 29.3 mg
Sodium 143.3 mg6%
Total Carbohydrates 8 g2.8%
Dietary Fiber 0.63 g2.5%
Sugars 6.8 g
Protein 8 g15.5%
Vitamin A 0.8% Vitamin C 3%
Calcium 0.9% Iron 2.7%
*Based on a 2000 Calorie diet
Directions
Heat oil in a large skillet over medium heat. Add the chicken, and cook while stirring to crumble until no longer pink. Stir in the chilies, garlic, peanut butter, lime juice, coconut cream and fish sauce. Bring to a boil, then reduce heat to low, and simmer for 5 minutes. Stir in the mint, and serve warm or hot. Garnish with a few leaves of mint.

Oooohhhh, Wesly Paul! Thanks for reminding me why this is my favorite foodie site! :) Been away *FAR* too long! This has been my favorite cuisine discovery (and trust me, there have been many others!) since we moved to the West Coast! "The craft of questions, the craft of stories, the craft of the hands - all these are the making of something, and that something is soul. Anytime we feed soul, it guarantees increase." -- Clarissa Pinkola Estes, Ph.D.
Posted on:
18 October 2008 - 11:16pm

Isn't that essentially peanut butter? All peanut butter is is ground/mashed peanuts? You don't have to add oil to it....
Posted on:
11 August 2007 - 4:39pm