»

Recipes

»

Thai

»

Thai Style Fried Snapper
Thai Style Fried Snapper Recipe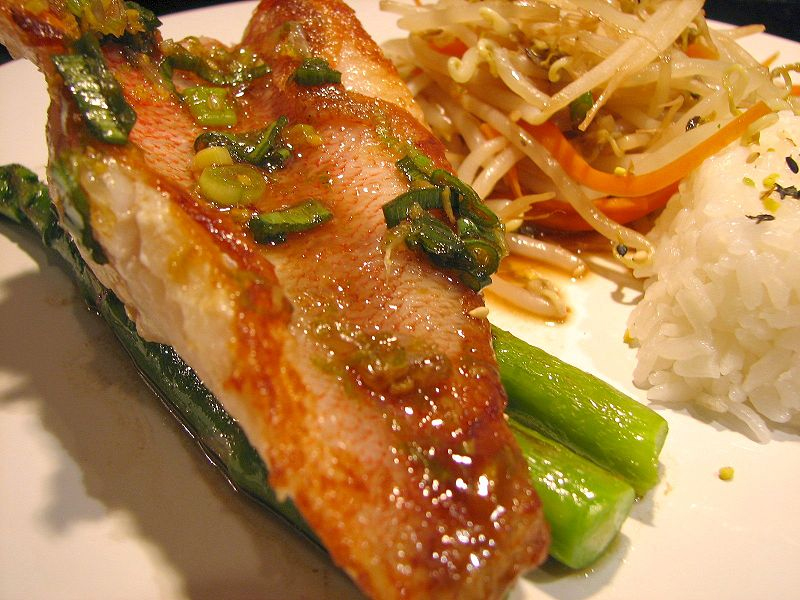 Ingredients
Red snapper - 6 1-cm/0.4-inch thick slices

Fish sauce

1 Tablespoon

Cornflour

1 Tablespoon

Green pepper

1 To taste

Pepper red

1 To taste

White onion

1 Medium

Vegetable oil

4 Tablespoon

Worcestershire sauce

Coriander
Directions
GETTING READY
1) Rinse the snapper well and remove excess moisture using a kitchen towel.
2) Allow the snapper to marinate in fish sauce for half an hour, pat dry and dredge with cornflour.
3) Remove the seeds from the peppers.
4) Now make peppers and onions into bite-sized pieces by cutting.

MAKING
5) Take a nonstick wok, heat the oil in it.
6) When oil starts bubbling around a dry chopstick, it's ready.
7) Divide the snapper pieces in two batches and deep-fry until golden brown and crispy.
8) Take out from oil and allow the excess oil to soak by placing on paper napkins.
9) Separate away all oil except for a dessertspoon.
10) Heat wok and fry onions and peppers quickly by turning frequently with a splash of fish sauce and Worcestershire sauce.

SERVING
11) Ladle the sauce mixture over warm snapper and scatter on top with sprigs of coriander before serving.
Image Courtesy :
http://commons.wikimedia.org/wiki/File:Pan-fried_Red_Snapper_Fillet.jpg