»

Recipes

»

Thai

»

Thai Style Chicken
Thai Style Chicken Recipe
Thai Style Chicken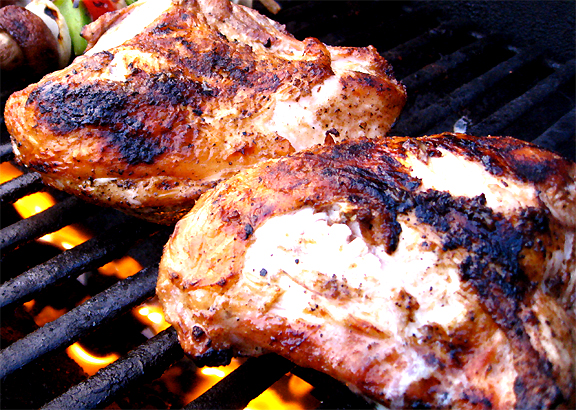 Ingredients
Lime rind

1 Tablespoon

, grated

Lime juice

1/3 Cup (16 tbs)

Fish sauce

1/4 Cup (16 tbs)

Packed brown sugar

3 Tablespoon

Ketchup

2 Tablespoon

2 tbsp hoisin sauce

Ginger root

1 Tablespoon

, minced

1 tbsp chopped jalapeno pepper

Garlic

2 Clove (5gm)

, minced

4 each chicken breasts and legs, skinned
Directions
In large bowl, combine lime rind and juice, fish sauce, sugar, ketchup, hoisin sauce, ginger, jalapeno and garlic.
Add chicken, turning to coat; cover and marinate in refrigerator for at least 4 hours or up to 8 hours, turning occasionally.
Let stand at room temperature for 30 minutes.
Reserving marinade in small saucepan, broil or grill chicken over medium heat for 8 to 12 minutes or until browned, breasts are no longer pink inside and juices run clear when legs are pierced.
Meanwhile, bring marinade to boil; boil for 5 minutes.