»

Recipes

»

American

»

Texas

»

Texas Style Chili
Texas Style Chili Recipe
This Texas Style Chili recipe is the favorite of my wife. Whenever there is a gathering or celebrations at my home, her emphasis on cooking this dish. It is delicious and liked by all. You will love this Texas Style Chili Recipe.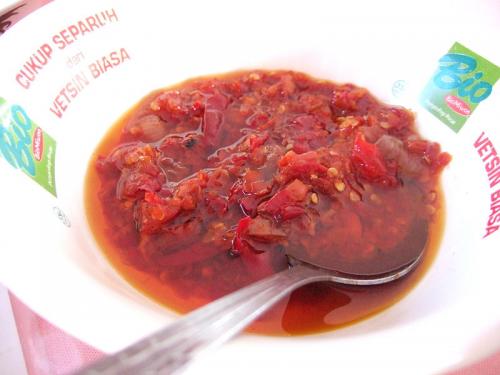 Ingredients
Beef chuck blade steak

3 1⁄2 Pound

Salad oil

1⁄4 Cup (4 tbs)

Chopped onion

2 Cup (32 tbs)

Green peppers

3 Medium

, diced

Tomatoes

16 Ounce

Garlic

4 Clove (20 gm)

Tomato paste

2 Ounce

Chili powder

1⁄3 Cup (5.33 tbs)

Sugar

1⁄4 Cup (4 tbs)

Salt

2 Teaspoon

Oregano

2 Teaspoon

Pepper

3⁄4 Teaspoon

Cheese

1⁄2 Cup (8 tbs)

(for garnish)
Nutrition Facts
Serving size
Calories 1285 Calories from Fat 772
% Daily Value*
Total Fat 87 g134.2%
Saturated Fat 29.8 g148.9%
Trans Fat 0.2 g
Cholesterol 281.5 mg
Sodium 1984.1 mg82.7%
Total Carbohydrates 47 g15.6%
Dietary Fiber 13.3 g53%
Sugars 25 g
Protein 74 g148.1%
Vitamin A 157.3% Vitamin C 215.9%
Calcium 28.2% Iron 49.7%
*Based on a 2000 Calorie diet
Directions
Monteray Jack cheese for garnish. Cut steak into 1/2 inch cubes.

Brown meat in oil in Dutch oven, remove to bowl and set aside.

Reserve 1/2 cup onions- cover-set aside.

Add remaining onions, peppers, and garlic to drippings in pan
over medium heat. Cook 10 minutes stirring occasionally. Add
more oil if necessary.

Return meat to pan add tomatoe and their liquid and remaining
ingredients, except cheese and onions. Heat to boiling. Reduce
heat to low, cover and simmer 1 1/2 hours or until meat is fork
tender, stirring occasionally.

Spoon chili into large bowl sprinkle cheese on top for garnish.

Pass reserved onion to sprinkle over each serving.