»

Recipes

»

Sparerib

»

Texas-Barbecued Spareribs
Texas-Barbecued Spareribs Recipe
Barbecued Sweet and Sour Spareribs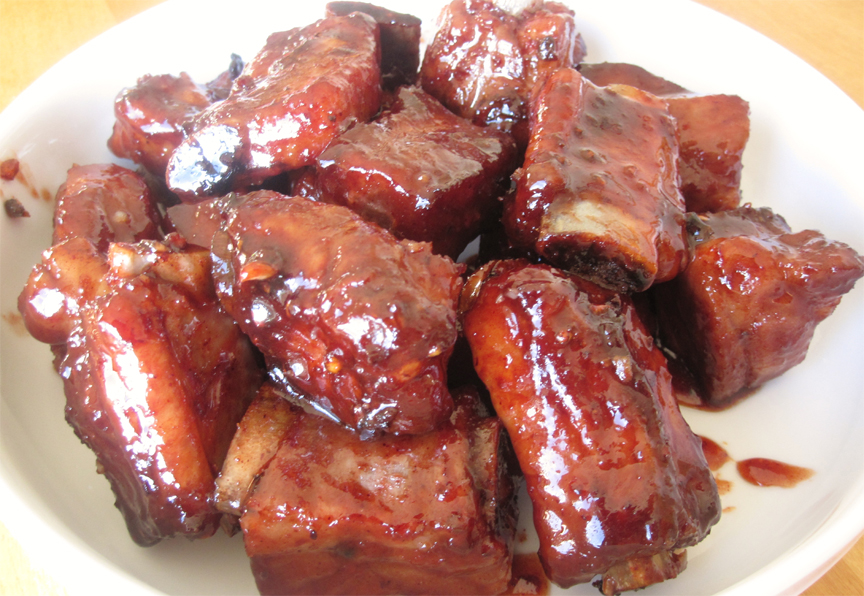 Ingredients
Spareribs

3 Pound

Lemon slices

1

Onion

1⁄2 Cup (8 tbs)

, chopped

Brown sugar

2 Tablespoon

Paprika

1 Tablespoon

Salt

1 Teaspoon

Dry mustard

1 Teaspoon

Chili powder

1⁄4 Teaspoon

Cayenne pepper

1⁄8 Teaspoon

Worcestershire sauce

2 Tablespoon

Vinegar

1⁄4 Cup (4 tbs)

Tomato juice

1 Cup (16 tbs)

Catsup

1⁄4 Cup (4 tbs)

Water

1⁄2 Cup (8 tbs)
Nutrition Facts
Serving size: Complete recipe
Calories 4222 Calories from Fat 2914
% Daily Value*
Total Fat 325 g499.4%
Saturated Fat 121.7 g608.3%
Trans Fat 0 g
Cholesterol 1056 mg
Sodium 3979 mg165.8%
Total Carbohydrates 79 g26.3%
Dietary Fiber 9.1 g36.4%
Sugars 60.3 g
Protein 235 g469.2%
Vitamin A 204.2% Vitamin C 133.5%
Calcium 60.7% Iron 105.8%
*Based on a 2000 Calorie diet
Directions
Cut spareribs into serving pieces; place in roasting pan.
Arrange 1 lemon slice on each serving.
Sprinkle with onion.
Bake in 450-degree oven for 30 minutes.
Mix all remaining ingredients in saucepan.
Simmer for 15 minutes or until thickened slightly.
Pour over ribs; reduce oven temperature to 350 degrees.
Bake for 1 hour, basting every 15 minutes with sauce.
Add water, if necessary, Bake covered, for 30 minutes longer.