»

Recipes

»

Crab

»

Texas Crab Casserole
Texas Crab Casserole Recipe
Texas Crab Casserole is an irresistible side dish recipe which you would surely love to serve to your friends. Enjoy this delicious recipe; I am sure you would love to try this Texas Crab Casserole again-n-again.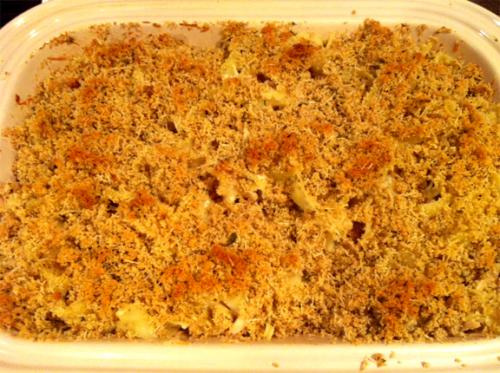 Ingredients
White sauce

2 Cup (32 tbs)

, medium hot

Grated sharp cheddar cheese

1 Cup (16 tbs)

Egg yolks

2

, beaten

Fresh crabmeat/Canned crabmeat

2 Cup (32 tbs)

Toasted buttered bread crumbs

1⁄4 Cup (4 tbs)

Grated parmesan cheese

2 Tablespoon

Soft butter/Margarine

2 Tablespoon
Nutrition Facts
Serving size: Complete recipe
Calories 1863 Calories from Fat 939
% Daily Value*
Total Fat 113 g174.6%
Saturated Fat 54.1 g270.6%
Trans Fat 0 g
Cholesterol 884.2 mg
Sodium 5012.5 mg208.9%
Total Carbohydrates 87 g28.9%
Dietary Fiber 2.5 g9.9%
Sugars 30.2 g
Protein 121 g241.5%
Vitamin A 70.2% Vitamin C 102.8%
Calcium 207% Iron 11.7%
*Based on a 2000 Calorie diet
Directions
Mix hot White Sauce and cheese in 1 1/2 quart casserole; cook in Radarange oven 1/2 minute until cheese is completely melted, stirring after 15 seconds.
Add some cheese sauce to beaten egg yolks, blend until smooth.
Repeat until there is about 1 cup blended sauce and egg yolk mixture.
Return to casserole; mix thoroughly.
Stir in crabmeat.
Sprinkle with mixed crumbs and grated Parmesan cheese, dot with butter.
Cook in oven 8 to 9 minutes until heated through.
Turn casserole a quarter turn at 2 minute intervals.