»

Recipes

»

Japanese

»

Teriyaki

»

Teriyaki Sticks
Teriyaki Sticks Recipe
Teriyaki Sticks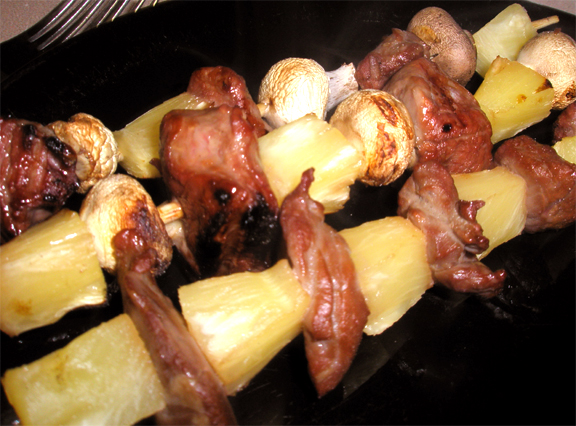 Ingredients
Top round beefsteak

1

(Cut 1 1/4 Inches Thick)

Frozen pineapple juice concentrate

6 Ounce

(1/4 Cup Or 1 Can)

Water

1⁄4 Cup (4 tbs)

Olive oil

2 Tablespoon

Bottled meat sauce

1 Tablespoon

Garlic

1 Clove (5 gm)

, crushed

Ground ginger

1 Teaspoon

Anise seeds

1⁄2 Teaspoon

, crushed

Frozen shelled and deveined shrimp

12

, thawed

Pineapple slices

2

, pared, cored and cut in 9 wedges each (One Inch Thick Slices)
Directions
1. Pierce the steak deeply all over with fork; place in shallow dish.
2. Mix the pineapple-juice concentrate, water, olive oil, meat sauce, garlic, ginger and anise seeds in a 1-cup measure; pour over steak; cover. Chill, turning steak once, 30 minutes; remove from marinade to a cutting board; discard marinade.
3. Cut meat diagonally into long slices 1/4-inch thick; thread accordion-style, with 2 shrimp and 3 pineapple wedges, onto each of 6 long skewers. Place on grill about 6 inches above hot coals.
4. Grill, turning once, 6 minutes for rare, or until steak is done as you like it.