»

Recipes

»

Japanese

»

Teriyaki Chicken Wings
Teriyaki Chicken Wings Recipe
Teriyaki Chicken Wings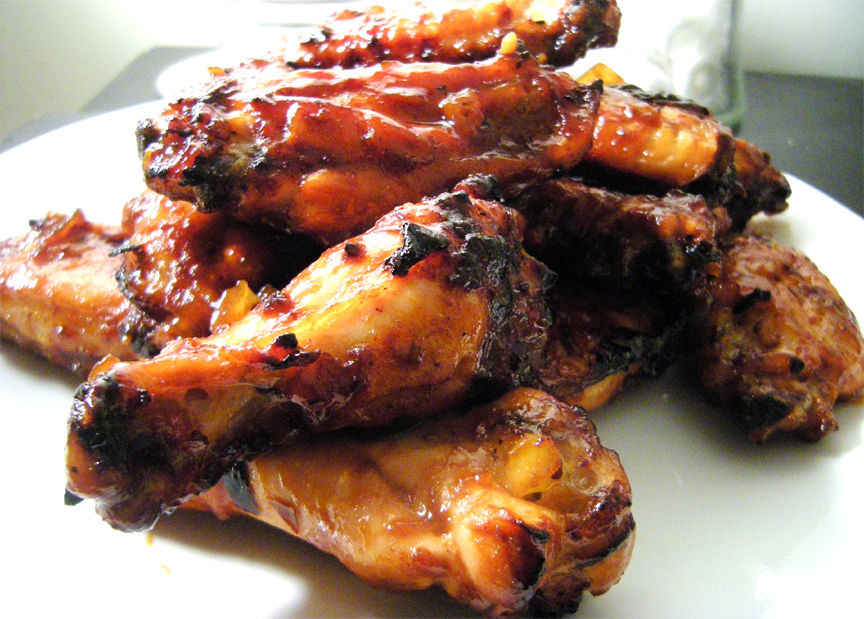 Ingredients
Chicken wings

8

Soy sauce

1⁄4 Cup (4 tbs)

Sherry

2 Tablespoon

Grated ginger

2 Teaspoon

Garlic

1 Clove (5 gm)

, crushed

Honey

1 Tablespoon
Nutrition Facts
Serving size: Complete recipe
Calories 515 Calories from Fat 101
% Daily Value*
Total Fat 11 g17.2%
Saturated Fat 3 g14.8%
Trans Fat 0.2 g
Cholesterol 177.8 mg
Sodium 4043.9 mg168.5%
Total Carbohydrates 25 g8.3%
Dietary Fiber 0.84 g3.4%
Sugars 13.6 g
Protein 73 g146.2%
Vitamin A 3.7% Vitamin C 9.8%
Calcium 6.4% Iron 23.2%
*Based on a 2000 Calorie diet
Directions
WASH CHICKEN wings and pat dry with paper towel.
1.Trim any excess fat from wings, and tuck tips under to form a triangle.
2.Place wings in shallow non-metal dish.
Combine soy sauce, sherry, ginger, garlic and honey in a jug; mix well.
Pour over chicken.
Store, covered with plastic wrap, in refrigerator several hours or overnight.
Prepare and light barbecue 1 hour before cooking.
Lightly brush two sheets of aluminium foil with oil.
Place 4 wings in a single layer on each piece of foil; wrap completely.
3.Place parcels on hot barbecue grill or flatplate 10 minutes.
Remove parcels from heat; unwrap.
Place wings directly on lightly greased grill 3 minutes or until brown.
Turn wings frequently and brush with any remaining marinade.