»

Recipes

»

Salad

»

Tangy Steak Salad
Tangy Steak Salad Recipe
Satisfy both the meat and veggie lovers at the same time with this quick to cook and great to eat tangy steak salad. It is easy, healthy and yes simply delicious. Toss this simple salad and have a great time.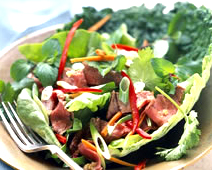 Ingredients
Olive oil/Vegetable oil

1 Tablespoon

Beef boneless top sirloin steak

1 Pound

, thinly sliced

Dijon mustard

3 Tablespoon

Chopped parsley

1 Tablespoon

Iceberg lettuce

4 Cup (64 tbs)

(Bite Sized)

Celery stalks

1 Cup (16 tbs)

, sliced

Green onions

4

, sliced

Red bell pepper

1 Small

, sliced
Nutrition Facts
Serving size
Calories 232 Calories from Fat 107
% Daily Value*
Total Fat 12 g18.4%
Saturated Fat 2.6 g13.2%
Trans Fat 0 g
Cholesterol 53.3 mg
Sodium 233.7 mg9.7%
Total Carbohydrates 7 g2.2%
Dietary Fiber 2.8 g11%
Sugars 3.2 g
Protein 24 g47.1%
Vitamin A 43.9% Vitamin C 88.8%
Calcium 3.7% Iron 5%
*Based on a 2000 Calorie diet
Directions
1. Heat oil in 10-inch skillet over high heat.
2. Cook beef in oil about 2 minutes, stirring constantly, until brown; drain. Stir in mustard and parsley; keep warm,
3. Toss lettuce, celery, green onions and bell pepper. Divide among 4 dinner plates. Top with beef mixture.