»

Recipes

»

Tangy Asparagus Casserole
Tangy Asparagus Casserole Recipe
For this recipe of Tangy Asparagus Casserole, use the freshest of Vegetable available. A great option for a vegetarian main. Whenever you try out this Tangy Asparagus Casserole, do let me know your experience.
Tangy Asparagus Casserole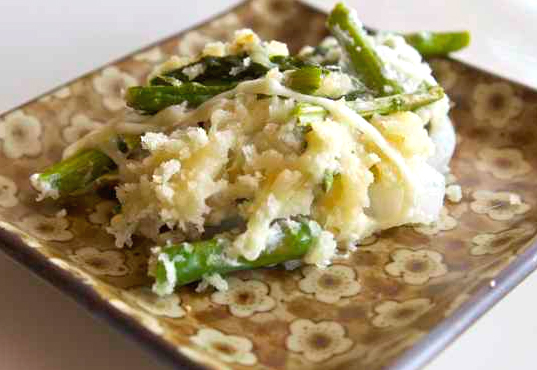 Ingredients
Asparagus spears

2 Can (20 oz)

(Drained)

Sour cream

1 Can (10 oz)

Prepared horseradish

1 Tablespoon

Bread crumbs

1⁄2 Cup (8 tbs)

Salt

1⁄2 Teaspoon

Pepper

1 Dash

Garlic salt

1 Dash

Margarine

2 Tablespoon
Nutrition Facts
Serving size: Complete recipe
Calories 908 Calories from Fat 713
% Daily Value*
Total Fat 81 g124.4%
Saturated Fat 37.1 g185.3%
Trans Fat 0 g
Cholesterol 147.4 mg
Sodium 2464.6 mg102.7%
Total Carbohydrates 34 g11.3%
Dietary Fiber 3.7 g14.8%
Sugars 17.4 g
Protein 13 g26.3%
Vitamin A 107.5% Vitamin C 28.3%
Calcium 51.6% Iron 37.4%
*Based on a 2000 Calorie diet
Directions
MAKING
1) Place the asparagus in a casserole.
2) Place in the oven at 350 degrees and bake for 10 minutes.
3) In a bowl, add together sour cream and horseradish.
4) Add over the asparagus.
5) In a bowl, mix together bread crumbs and seasonings.
6) In a pan, heat margarine.
7) Add in the breadcrumb mix and brown.
8) Top over the casserole.
9) Place back in the oven and continue to bake for 10 minutes longer, till heated through.

SERVING
10) Serve hot.