»

Recipes

»

Pasta

»

Tangy Tortellini Salad
Tangy Tortellini Salad Recipe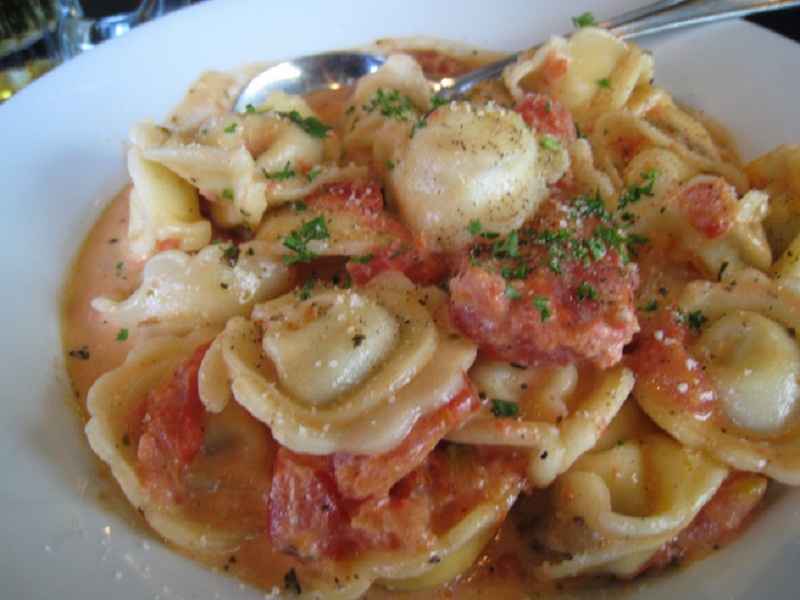 Ingredients
Tomato sauce

8 Ounce

(1 Can)

Vegetable oil

1⁄2 Cup (8 tbs)

Red wine vinegar

1⁄3 Cup (5.33 tbs)

Seasoned salt

1⁄2 Teaspoon

Garlic powder

1⁄4 Teaspoon

Celery seed

1⁄4 Teaspoon

Black pepper

1⁄4 Teaspoon

Dried oregano leaves

1⁄4 Teaspoon

Tortellini

7 Ounce

, cooked according to package directions, rinsed and drained (1 Package)

Julienned salami/Ham

1 Cup (16 tbs)

Julienned red bell peppers

1 Cup (16 tbs)

Pitted sliced ripe olives

2 Ounce

, drained (1 Can)

Chopped red onion

1⁄4 Cup (4 tbs)

Lettuce leaves

4
Nutrition Facts
Serving size
Calories 733 Calories from Fat 454
% Daily Value*
Total Fat 53 g81.8%
Saturated Fat 10.6 g53.2%
Trans Fat 0 g
Cholesterol 44.9 mg15%
Sodium 1124.2 mg46.8%
Total Carbohydrates 45 g14.9%
Dietary Fiber 4.3 g17.1%
Sugars 7.9 g
Protein 19 g38%
Vitamin A 61.4% Vitamin C 128.6%
Calcium 24.1% Iron 19.9%
*Based on a 2000 Calorie diet
Directions
MAKING
1. Take a medium-sized bowl and combine together tomato sauce, oil, vinegar and seasonings.
2. Refrigerate the mixture after covering.
3. Take a large bowl and combine tortellini, salami, bell peppers, olives and onion.]

SERVING
4. To serve arrange the combined mixture on lettuce leaves and pour the dressing over pasta mixture after whisking again.
Image Courtesy :
http://www.flickr.com/photos/mastermaq/2557806474/