»

Recipes

»

Indian

»

TANDOORI RAAN
TANDOORI RAAN Recipe
A delicious succulent Tandoori Raan recipe just for you. Enjoy the taste of the delicious lamb marinated in hung curd and the traditional Indian spices. Relish a mouth watering meal with the Tandoori Raan recipe.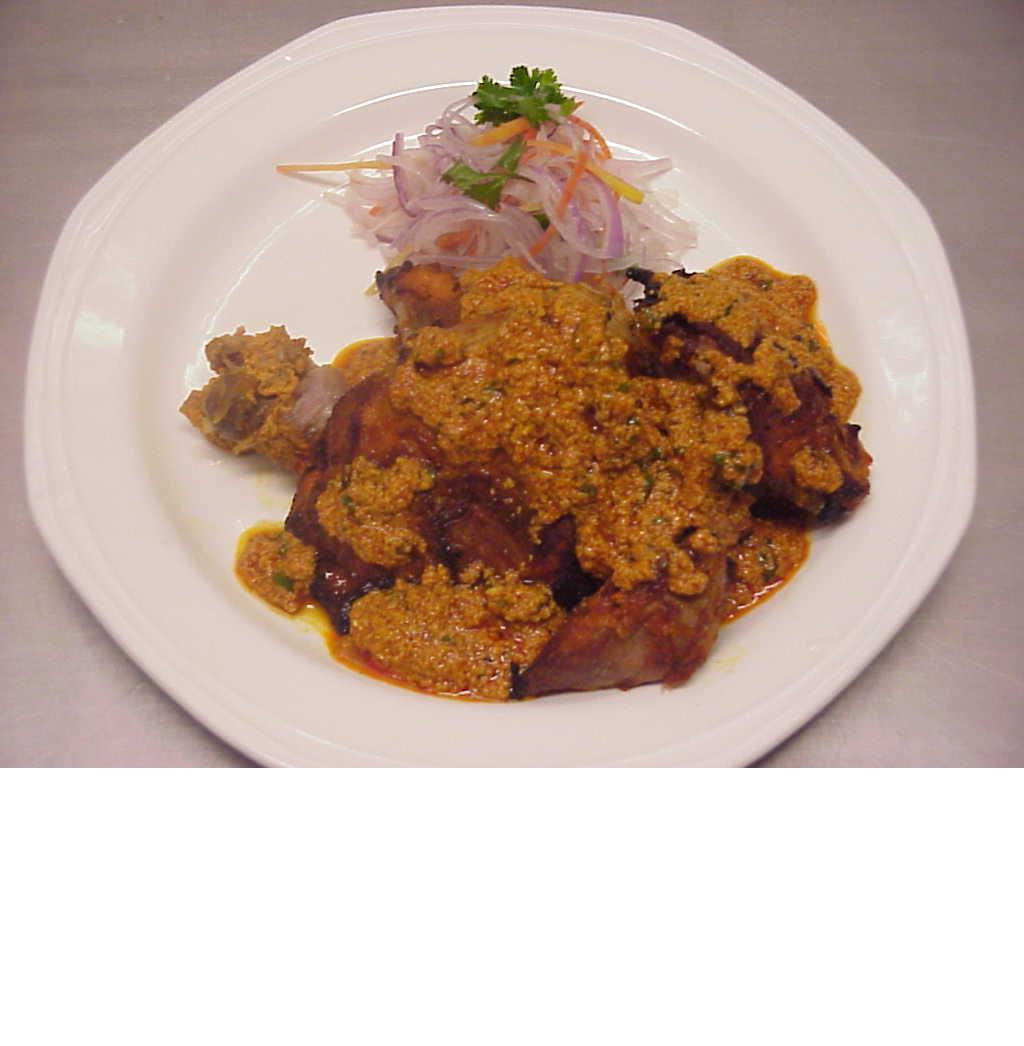 Recipe Story
It is a signature dish of Indian Tandoor(clay oven)...
Ingredients
Raan

1 Kilogram

Curd

30 Gram

(hung)

Whole garam masala

5 Gram

Ginger paste

10 Gram

Garlic paste

10 Gram

Yoghurt

100 Gram

Salt

To Taste

Oil

20 Milliliter

Chilli

10 Gram

Malt vinegar

25 Milliliter

Mutton stock

500 Milliliter
Nutrition Facts
Serving size
Calories 395 Calories from Fat 153
% Daily Value*
Total Fat 17 g26.3%
Saturated Fat 4.1 g20.4%
Trans Fat 0.3 g
Cholesterol 213 mg
Sodium 570 mg23.8%
Total Carbohydrates 4 g1.3%
Dietary Fiber 0.04 g0.15%
Sugars 2.5 g
Protein 53 g106.8%
Vitamin A 5.1% Vitamin C 10.6%
Calcium 8.4% Iron 14.8%
*Based on a 2000 Calorie diet
Directions
CLEAN THE RAAN, PRICK WITH A FORK AND RUB SALT, KEEP ASIDE FOR 1HOUR
THEN RUB CHILLI PDR ALONG WITH MALT VINEGAR AND KEEP FOR TWWO HOURS
MAKE A MARINADE OF HUNG CURD,WHOLE GARAM MASALA, GINGER- GARLIC PASTE, SALT, OIL, CHILLI PASTE AND MALT VINEGAR AND MARINADE THE RAAN OVER NIGHT.
PUT THE RAAN IN A LAGAN WITH LAMB STOCK AND SEAL WITH A DOUGH.
COOK OVER A SLOW FLAME OR IN AN OVEN FOR 2 HRS.
LET IT COOL AND DEBONE IT AND FINISH IT IN TANDOOR.
REDUCE THE COOKING LIQOUR AND SERVE IT ALONG WITH THE RAAN.