»

Recipes

»

Mexican

»

Tamale
Tamale Pie Recipe
This tamale pie is a steak and vegetables pie recipe. Prepared with a double cornmeal crust, it is filled with a meat and vegetable mixture. Topped off with tomatoes, it is baked in the oven and can be served as desired.
Tamale Pie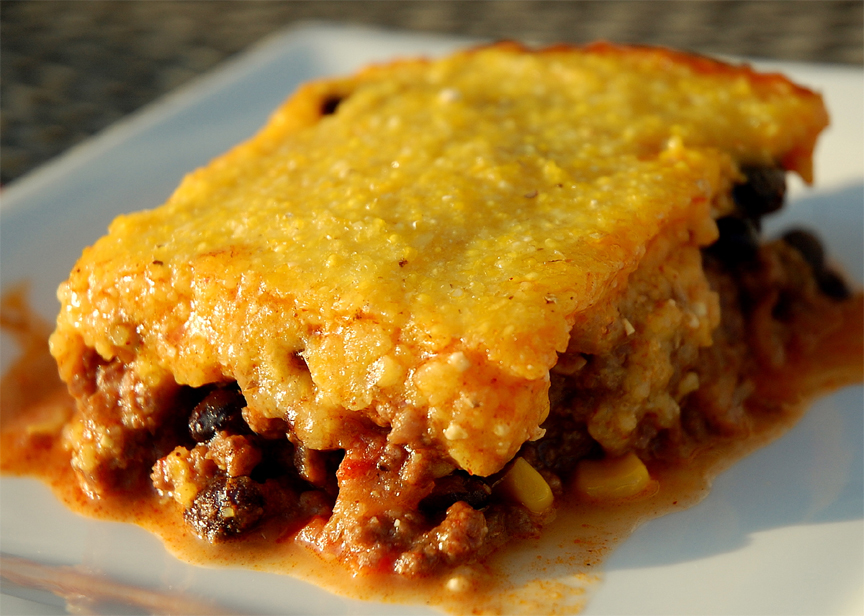 Ingredients
Salt

3 1⁄2 Teaspoon

Chuck steak

1 Pound

, grounded

Corn meal

1 Cup (16 tbs)

Shortening

3 Tablespoon

Chili powder

1⁄2 Teaspoon

Onion

1 Medium

, chopped

Tomatoes

4 Medium

Green pepper

1 Small

, chopped
Nutrition Facts
Serving size: Complete recipe
Calories 2174 Calories from Fat 1105
% Daily Value*
Total Fat 124 g190.8%
Saturated Fat 39.6 g197.9%
Trans Fat 5.9 g
Cholesterol 300 mg
Sodium 7657.8 mg319.1%
Total Carbohydrates 165 g55%
Dietary Fiber 22.1 g88.5%
Sugars 23.7 g
Protein 90 g180.3%
Vitamin A 102.4% Vitamin C 232.7%
Calcium 11.6% Iron 65.3%
*Based on a 2000 Calorie diet
Directions
Bring 3 cups of water and 1 1/2 teaspoons of the salt to the boiling point.
Then slowly add corn meal in a steady stream, stirring constantly.
Cook over a low heat, stirring frequently, for 10 minutes.
Remove from heat.
Melt shortening in a frying pan, add onion and green pepper, and cook over a low heat until limp but not brown.
Add the ground chuck and keep cooking until it is brown.
Stir in chili powder and remaining salt.
Remove from stove.
Cut tomatoes in slices.
Spread half the cooked corn meal over the bottom of a medium sized casserole, cover with a layer of tomatoes, then all the meat mixture.
Add a second layer of corn meal and top that with the remaining tomato slices.
Bake in a preheated 375° oven for 25 minutes.