»

Recipes

»

European

»

Swiss

»

Swiss And Rye Bread
Swiss and Rye Bread Recipe
Rye Bread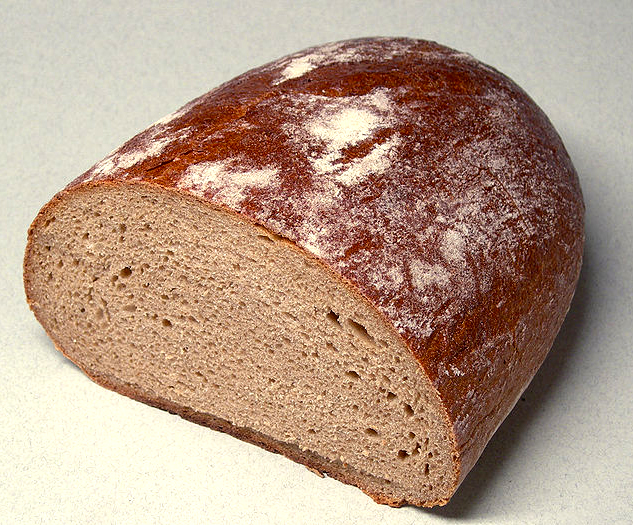 Ingredients
Swiss cheese

4 Ounce

Active dry yeast

1 Tablespoon

Warm water

1⁄4 Cup (4 tbs)

(105°-115°F)

Honey

1 Tablespoon

Whole wheat flour

2 1⁄4 Cup (36 tbs)

(Measured Scoop And Level)

Rye flour

3⁄4 Cup (12 tbs)

Salt

1⁄2 Teaspoon

Skim milk powder

1⁄4 Cup (4 tbs)

(Non Instant)

Water

3⁄4 Cup (12 tbs)
Nutrition Facts
Serving size
Calories 443 Calories from Fat 86
% Daily Value*
Total Fat 10 g15.3%
Saturated Fat 5.4 g26.8%
Trans Fat 0 g
Cholesterol 26.2 mg
Sodium 307 mg12.8%
Total Carbohydrates 73 g24.2%
Dietary Fiber 14 g56.2%
Sugars 4.4 g
Protein 22 g44.1%
Vitamin A 4.9% Vitamin C 0.05%
Calcium 26.3% Iron 26.5%
*Based on a 2000 Calorie diet
Directions
1) Add yeast to 1/4 cup warm water.
2) Let stand in a warm place about 5 minutes until it dissolves or puffs.
3) Stir in honey.
4) In the food processor, use the SHREDDING DISC setting to shred the cheese.
5) In your food processor, use the METAL BLADE setting.
6) In the work bowl, add whole wheat flour, rye flour, salt and milk powder to the cheese. Pulse on/off to mix.
7) Pour in yeast mixture through the feed tube while machine is running.
8) Pour in remaining water in a steady stream, only as fast as the flour absorbs it.
9) Process the stiff dough ball for 20 seconds and test the consistency for right elasticity, stickiness and wetness, by stopping the machine.
10) If it is not ready, then process for another 10 seconds.
11) Sprinkle with additional 1-2 tablespoons flour into the dough and pulse machine on/off to coat dough for easy removal from work bowl.
12) In an oiled bowl transfer the dough and turn over to oil the entire surface.
13) Cover with plastic bag or damp cloth and let rise in a warm place, free from drafts, until doubled in bulk, about 1 hour.
14) Punch down dough and knead for 30 seconds to press out the dough.
15) Prepare a ball out of the dough, let rest by covering for 5 minutes.
16) Use a greased 7 7/8 x 3 7/8-inch pan, to place the loaf made from the dough.
17) Cover and let rise in warm place, free from drafts until nearly doubled, about 30-45 minutes.
18) Preheat oven to 375°.

MAKING
19) Place the pan inside oven on middle rack to bake for 35-40 minutes or until golden brown and bottom crust of loaf has a hard hollow sound when tapped.
20) Cover top of loaf with foil tent during last 10 minutes to prevent overbrowning.
21) Immediately transfer the loaf on wire rack for cooling.

SERVING
22) Serve the bread warm or cool with your choice of dip or spread.