»

Recipes

»

Salad

»

Sweet & Spicy Tuna Salad
Sweet & Spicy Tuna Salad Recipe
I took the idea of using an apple and honey from a similar recipe on tropicahnah's page. I used a cayene chili pepper in my preparation but that might be too hot for others.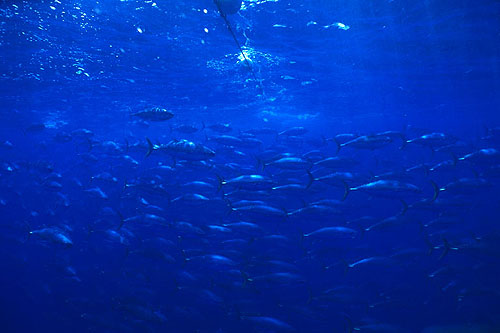 Ingredients
Albacore tuna

18 Ounce

(in water)

Light mayonnaise

4 Tablespoon

Honey

1 Teaspoon

Minced garlic

1 Teaspoon

Red onion

1⁄4

, finely chopped

Cilantro

2 Teaspoon

, finely chopped

Chili pepper

1 Tablespoon

, finely chopped

Fuji apple

1 Medium

, finely chopped

Pita bread

2

Sliced tomatos

1 Cup (16 tbs)

Sliced cucumbers

1 Cup (16 tbs)

Romaine lettuce

1 Cup (16 tbs)

Salt

To Taste
Nutrition Facts
Serving size
Calories 299 Calories from Fat 50
% Daily Value*
Total Fat 5 g8.3%
Saturated Fat 1.2 g5.9%
Trans Fat 0 g
Cholesterol 43.2 mg
Sodium 771.9 mg32.2%
Total Carbohydrates 40 g13.2%
Dietary Fiber 3.7 g14.8%
Sugars 16.4 g
Protein 22 g43.4%
Vitamin A 29.7% Vitamin C 31.2%
Calcium 3.4% Iron 3.6%
*Based on a 2000 Calorie diet
Directions
Mix together everything except the "sandwich materials" in a large bowl. Tear pita bread in half, open the pocket and spoon in the tuna salad mix. add sliced cucumbers, tomatos, and lettuce to taste.

Hey Moosie, When I see this recipe of Sweet and Spicy Tuna salad, I became very happy. Actually I am eagerly searching for seafood salad. In my view it would be a best healthier side dish option.really this is a great combination of seafood and salad. It is looking very simple and easy . I will try it.
Posted on:
8 February 2008 - 11:50am

Love hot! My favourite is the smoked Thai chiles and also Applewood Smoked Rd Savina powder-only need a couple grains of it to wake up anything like soup or tuna! My husband, Steve says if his nose doesn't run the meal isn't hot enough! Shanti/Mary-Anne
Posted on:
22 October 2007 - 12:25am