»

Recipes

»

Sauce

»

SWEET-SOUR SAUCE
SWEET-SOUR SAUCE Recipe
This quick and easy recipe of Sweet-Sour Sauce is made with carrot, onion and apple juice. With liberal seasoning, this Sweet-Sour Sauce goes with a variety of vegetable dishes.
Sweet and Sour Sauce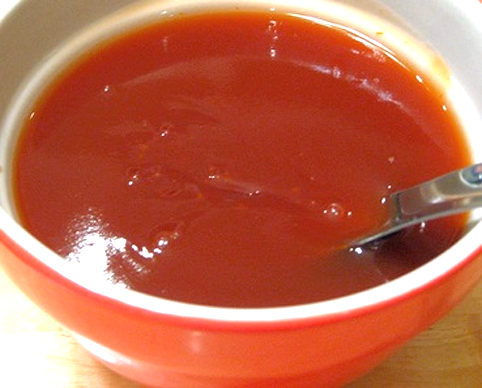 Ingredients
Salt

To Taste

Pepper

To Taste

Oil

1 Cup (16 tbs)

Carrot

1

, chopped

Celery stick

1

Onion

1

, sliced

Garlic

1 Clove (5 gm)

, minced

Bay leaves

2

Thyme/Marjoram

1 Tablespoon

, chopped

Coriander seeds

1 Tablespoon

, crushed

Apple juice

1 Cup (16 tbs)

Red currant jelly

2 Tablespoon

Bottled stoned cherries

1 Cup (16 tbs)

Coriander seeds

1 Tablespoon

, powdered

Cider vinegar

1 Teaspoon
Nutrition Facts
Serving size: Complete recipe
Calories 3031 Calories from Fat 2076
% Daily Value*
Total Fat 235 g361.8%
Saturated Fat 30.3 g151.4%
Trans Fat 0 g
Cholesterol 0 mg
Sodium 545 mg22.7%
Total Carbohydrates 242 g80.6%
Dietary Fiber 20 g80%
Sugars 183.3 g
Protein 9 g18.2%
Vitamin A 224.2% Vitamin C 93.2%
Calcium 42.4% Iron 67%
*Based on a 2000 Calorie diet
Directions
MAKING
1. In a pan, heat oil.
2. Add carrot, celery and onion and cook for 5 minutes.
3. Add garlic, bay leaves, chopped herb, coriander seed and salt and pepper. Stir well.
4. Add apple juice and let it simmer for 15 minutes. Keep it aside to cool.
5. In a small pan, dissolve red currant jelly.
6. Add bottle stoned cherries with a little of its juice, a pinch of pepper, powdered coriander seeds and cider vinegar. Let it simmer for 5 minutes. Keep it aside to cool.
7. Strain this vegetable sauce
8. Add it to the cherry sauce. Heat it for 5 minutes.

SERVING
9. Serve Sweet-Sour Sauce with any vegetables or lentil dish that has no other sauce.