»

Recipes

»

Sauce

»

SWEET-SOUR APRICOT SAUCE
SWEET-SOUR APRICOT SAUCE Recipe
This is a quick homemade sweet and sour apricot sauce for apricot and pineapple lovers. This tastes great as a dipping or gravy.
Sweet And Sour Apricot Sauce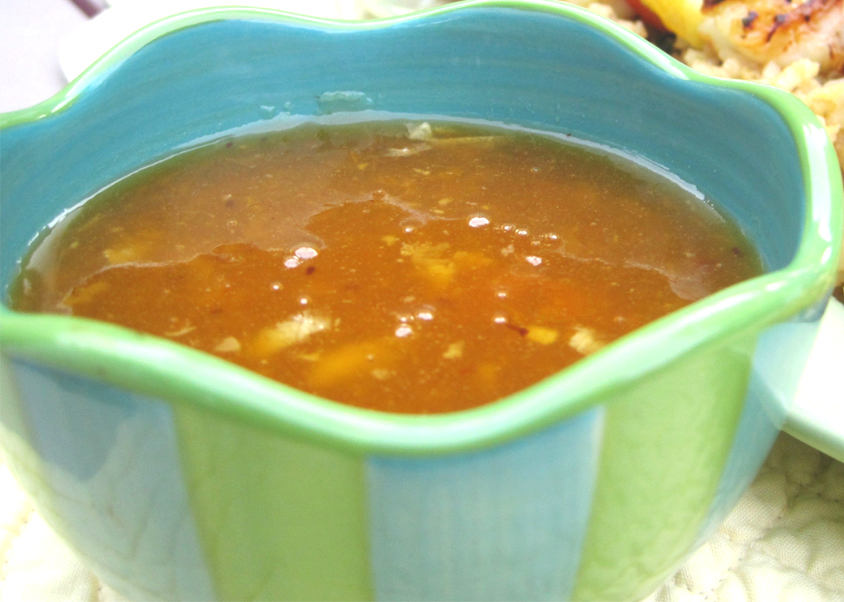 Ingredients
Canned apricot halves

2 Pound

Honey

1⁄2 Cup (8 tbs)

Pineapple

1⁄2 Cup (8 tbs)

, crushed

Brown sugar

1⁄2 Cup (8 tbs)

Cider vinegar

2 Tablespoon

Salt

1⁄2 Teaspoon

Pepper

To Taste

Garlic

2 Clove (10 gm)
Nutrition Facts
Serving size: Complete recipe
Calories 1487 Calories from Fat 2
% Daily Value*
Total Fat 0.18 g0.28%
Saturated Fat 0.02 g0.08%
Trans Fat 0 g
Cholesterol 0 mg
Sodium 994.7 mg41.4%
Total Carbohydrates 392 g130.5%
Dietary Fiber 8.7 g34.7%
Sugars 343.2 g
Protein 2 g3.1%
Vitamin A 1.7% Vitamin C 155.9%
Calcium 25% Iron 83.7%
*Based on a 2000 Calorie diet
Directions
MAKING
1. Sieve canned apricot and let the contents fall into a saucepan.
2. Add the remaining ingredients. Bring it to a boil and let it simmer for 10 minutes to prevent it from burning.
3. Remove garlic. Store it covered in a jar in the refrigerator.

SERVING
4. Serve Sweet-Sour Apricot Sauce with horsd'oeuvres and entrees.