»

Recipes

»

Shrimp

»

Sweet And Spicy Shrimp
Sweet and Spicy Shrimp Recipe
Tender shrimp, colorful veggies and steaming rice are served Asian style!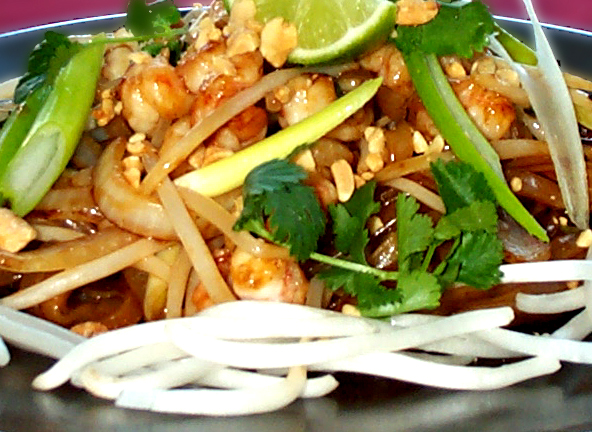 Ingredients
Soy sauce

1⁄4 Cup (4 tbs)

Sesame oil

1⁄2 Teaspoon

Sugar

2 Teaspoon

Crushed red pepper

1⁄2 Teaspoon

Cornstarch

2 Teaspoon

Vegetable oil

1 Tablespoon

Onion

1 Small

, cut into 1-inch pieces

Green bell pepper

1⁄2 Medium

, cut into 1-inch pieces

Carrot

1⁄2 Cup (8 tbs)

, thinly sliced (1 medium sized)

Uncooked peeled deveined large shrimp

3⁄4 Pound

(thawed if frozen)

Hot cooked rice

1 Cup (16 tbs)

(if desired)
Nutrition Facts
Serving size
Calories 242 Calories from Fat 52
% Daily Value*
Total Fat 6 g9.4%
Saturated Fat 0.63 g3.2%
Trans Fat 0 g
Cholesterol 116.3 mg
Sodium 1038.9 mg43.3%
Total Carbohydrates 26 g8.7%
Dietary Fiber 1.6 g6.4%
Sugars 5.3 g
Protein 20 g40.1%
Vitamin A 54.9% Vitamin C 30.5%
Calcium 6.4% Iron 14.3%
*Based on a 2000 Calorie diet
Directions
1. Stir together soy sauce, sesame oil, sugar, crushed red pepper and cornstarch until cornstarch is dissolved; set aside.
2. Heat oil in 12-inch skillet over medium-high heat. Stir-fry onion, bell pepper and carrot in oil 2 to 3 minutes or until crisp-tender.
3. Stir in soy sauce mixture and shrimp. Stir-fry 3 to 5 minutes, until shrimp are pink and firm and sauce is thickened. Serve over rice.