»

Recipes

»

Shrimp

»

Sweet And Sour Shrimp
Sweet And Sour Shrimp Recipe
Sweet And Sour Shrimp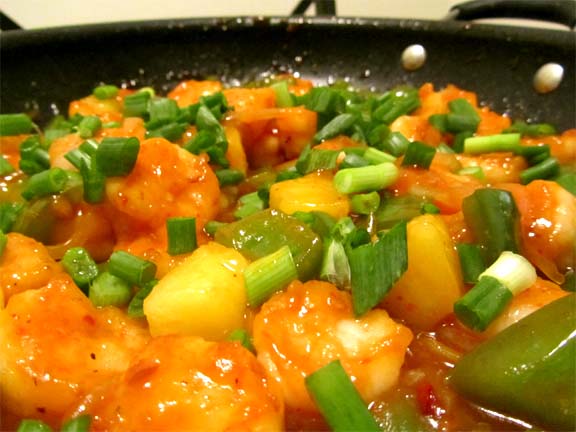 Ingredients
Butter

1⁄4 Cup (4 tbs)

Shrimp

1 Pound

, cooked

Salt

1⁄4 Teaspoon

Pepper

1⁄4 Teaspoon

Vinegar

1⁄4 Cup (4 tbs)

Soy sauce

2 Tablespoon

Whole cloves

6

Bay leaf

1

Canned pineapple chunks

16 Ounce

Cornstarch

1 Tablespoon

Green pepper

1 Cup (16 tbs)
Nutrition Facts
Serving size
Calories 102 Calories from Fat 40
% Daily Value*
Total Fat 4 g6.9%
Saturated Fat 2.5 g12.7%
Trans Fat 0 g
Cholesterol 67.5 mg
Sodium 243.3 mg10.1%
Total Carbohydrates 7 g2.4%
Dietary Fiber 0.62 g2.5%
Sugars 4.4 g
Protein 8 g16%
Vitamin A 4.7% Vitamin C 16.9%
Calcium 2.4% Iron 5.9%
*Based on a 2000 Calorie diet
Directions
Melt butter in large skillet; brown shrimp lightly.
Season with salt and pepper.
Add vinegar, soy sauce, 11/2 cup water, cloves and bay leaf.
Simmer, covered, for 10 minutes.
Drain pineapple; reserve syrup.
Mix 2 tablespoons reserved syrup with cornstarch.
Stir remaining reserved syrup into shrimp.
Blend in cornstarch mixture.
Bring to a boil gradually, stirring constantly.
Cook for 5 minutes or until sauce is thick and clear, stirring occasionally.
Add pineapple chunks.
Cut green pepper into 3/4-inch squares; add to shrimp mixture.
Cook until just tender.
Bring to a boil.
Serve in chafing dish with wooden picks.